When thinking about a baby shower gifts you tend to think about the same basic things over and over. You have your onesies, your bottles, your cute booties…etc. Most new moms get several of the same baby shower gifts, and miss out on some cute (or important) things. We put this list together because we found these unique gifts for pregnant women and wanted to share some ideas.
1. Pregnancy Pillow
This one can really help the mom out through the tough painful times.  The pregnancy pillow is a best seller because it is one of the FEW things that help give comfort in the late
stages of pregnancy
AND this is something that new moms can use after giving birth as well (added back support for reading…etc) It is made durable cotton and a multi-functional pillow that can be used through any activity.
2
.
Rhinestone Pacifier
This is a basic necessity for a lot of moms, but has the added bonus of cute and stylish. It comes in a ton of colors like pink, silver, blue and yellow.
3. Baby Sleep Sac
I mean!!! How cute is this? This is a great gift for someone giving birth close to winter seasons. It is a 100% hand knitted and you can easily wash it in the washing machine. It comes in soft as well as dark colors for you to choose from, made with wool and wooden buttons.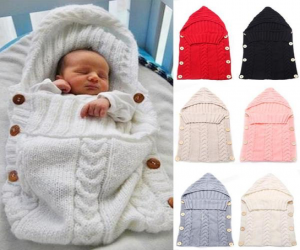 4. All In One Baby Bag
Spacious and stylish and super useful. This bag can do EVERYTHING a new mom would need on the go.  Not only will it carry everything but you can give your baby a nap in it, and use it as a changing pad.
5.
Childrens Hook on Seat
This is a great spacer. You don't have to worry about high chairs, or booster seats (and the germs that come with them at restaurants). Its comfortable for babies and fits almost any size chair.
6. Baby Bath Robe
A tiny bathrobe is a must for new moms. Ok not really a "must" but how could you say no to this cuteness? These are made from super soft cotton cloth, and perfect for super soft baby skin. Please note: cute baby not included
7. Childrens Fun Dish
Some moms don't realize the value of this until they have kids that are being picky eaters. Trust me- they will thank you EXTRA for this one day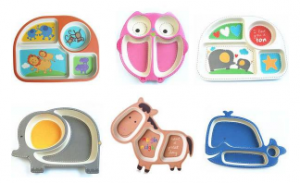 8. Waterproof Baby Changing Diaper Clutch
All problems solved with this great changing clutch. It makes it less troublesome to change your baby's diaper and is about the right size to fit in any bag. With a wipes dispenser attached, it opens into a waterproof mat.
9. Squeezy Baby Food Spoon
A squeezy baby food spoon is all a new mom needs to feed the baby much easier. Attached to a feeder, the spoon allows the milk or cereal baby food to pass through and easily and into the baby's mouth without any struggle. It is made from silica gel and perfect for traveling.
10. Baby Thermometer Pacifier 
Most babies don't sit still long enough to get an accurate read on thermometer. This is a much less scary way for new moms to know thier kids temperature without having to fight for it. This accurate baby thermometer pacifier only takes a minute or two to calculate the baby's body temperature. Very simple to use with an on and off switch.
Don't forget to use code:
TWINMOM
for 15% off