Decorating a nursery for one child is fun but decorating a nursery for twins is a daunting challenge. If you know beforehand that you are going to be blessed with twins, then start preparing and organizing space for your newborn until that little bundle of joy opens his/her eyes in the world. It is no doubt that it is the nursery where the baby along with parents make some life long memories. In the initial days, the baby will spend more time in the nursery, therefore, it is the parent\'s job to turn the blank canvas of a room into a welcoming baby heaven. Don\'t get worried about how to organize your space for twins rather it will help you to address the needs of twins simultaneously. It is the laughter and giggles of your babies that add charm to your space, so it totally depends on you how you cater the need of your new born and the kind of décor environment you provide them to grow in. Enlisted in this article are some super amazing décor ideas for your home nursery.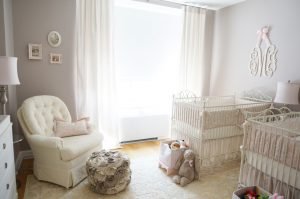 Nursery glider chair a must accessory for twin nursery:
Being a new parent, you have to spend much more time with the baby in the nursery. Therefore decorate it in a manner that serves your comfort level as well.  There is no better and comfortable option than to opt for
nursery glider
that will help you to rock your baby to sleep while you read a book or watch your favorite TV show.
Choose adaptable furniture:
Decorating a twin nursery seems not to be an easy task yet it will save your time and energy by organizing their things into one common space. Keep your choices open and think of ways or statement pieces that can adapt to the needs of your twins. For example, a chest of drawers can be topped with a floral mat to give it a look of a changing table. The other good example of statement piece can be stated in terms of space saver two level crib because it features an efficient stacked design that will safely accommodate two infants.
Add a touch of greenery:
The 2017 nursery trends are more dominated by perfectly plotted green plants. The Fiddle Leaf Fig Tree 
is the most coveted living design accent around these days. You can give a floral theme to the twin\'s nursery or either arrange some artificial flowers hanging from the wall of the nursery. You should
read more about fresh blooms and which ones to use to create a kids-safe zone. 
Green is the color for 2017. Different shades of green can be used to create a natural feel, and it is the best option when you are looking forward to design nurseries on a gender neutral theme.
Fabric covered ceilings with a hanging chandelier and a carpeted floor:
The other good décor option for a neutral twin nursery is a fabric covered ceiling with a chandelier. This combination makes the nursery look cozier and balanced. It is recommended to carpet the nursery floor as it would be safe for the baby to crawl on a soft and fluffy surface of the carpet or rug. Unlike the wooden floor, a carpet acts as a filter against the germs and allergens by trapping them, but it is advisable to vacuum it daily to ensure a healthy environment for your child. You may also need a 
silhouette machine
 to create unique decorations for your baby room.
Author Bio:
This post is written by Julie Austin. She loves traveling, home decorating and hanging out with her friends. She regularly blogs at
http:/nurserygliderz.com/