We live in an era where invitations are now sent via email or text more often than not. The goal is to try to save hostesses time and money, by making it extra easy BUT honestly, I feel like "extra easy" also means extra "impersonal." An effortless invitation doesn't feel special. I have heard that a general rule of thumb is that if you expect people to RSVP then you should take the time to appropriately invite them to begin with. So here is a short list of examples of when a virtual invite may be acceptable.
Happy Hour-
If you are getting together with a few people, and want to extend the invite to anyone who may be available, then a text or mass email is completely fine.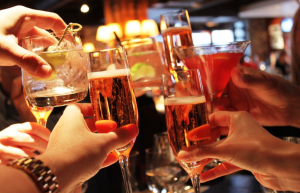 Gathering for a sports event
–  If (for example) you are hosting a Super bowl party , and you know that its not a huge special event for everyone you care about, but rather an event for those that care about football- no one needs a fancy invite. Simply shoot everyone a text, email or virtual invite.
Casual BBQ
(no special occasion) – A casual BBQ is just that. No need to go the extra mile of printing out beautiful custom invitation for what may just be "get together" amongst friends. Now this is where it gets important. If you are hosting any of these types of parties. Then I think it is SUPER important to take the time to send a proper invite.
Baby Shower
– NON NEGOTIABLE-  Sending a paper invitation to a shower is an absolute must. When you are asking people to shower your baby and celebrate your new arrival, it is important for them to feel special, AND this is the only non-tacky way to let people know where you are registered.  Side note- Twin specific baby shower invites are difficult to find, but we found some super cute ones at
basicinvite.com
Birthday Parties
– If you are celebrating a Birthday that is important enough to have a
party, you should help your guest feel important by taking the time and effort to send them a good old fashioned paper invite. This is especially important if you are expecting a good old fashion Birthday gift.
One Time Life Events
– This would include Baptism's,
1st Birthdays
, Bar Mitzvahs, Graduation, Quinceanera's, Weddings…etc.  If you are hosting an event that is very special then its important to pave the way with a very special invitation to set the tone of the event
By taking the time to customize an invitation, you are indirectly letting each guest know that they were hand-picked and chosen to be an attendee at your event. If you are torn on where to find the perfect invite, then you can pick from several websites, but since
Basicinvite.com has the best variety and specializes in invitations (and has twin specific invites…*wink wink), I would recommend them. They let you customize every invitation (and envelope) so you aren't limited by color or theme. You can essentially pick any invite you like and then make it match YOUR theme colors. The bottom line is If you have a life event that is super special to you, then take the time to make your guests feel super special for being included.