First celebrated in 1967, International Children's Book Day (April 2nd) inspires children to pick up a book and get reading. This year, to celebrate, we are rounding up our favorite children's books for twins!

What makes two? All sorts of things. A bicycle's wheels. A bluebird's wings. And twins, as you can plainly see, Are just as two as two can be. This brightly illustrated board book is a buoyant, bouncy ode to the joys of twindom. Perfect for children who are twins, and just as perfect for children who aren't!
Buy Two is for Twins board book for $6.76

A delightful set of twins show what a blast bathtime can be in this playful board book. Expect grins and giggles from little ones as these funny siblings splash, have tea, play peek-a-boo, and more, until it's time to say "good night."
Buy Bathtime for Twins board book for $6.72

Double born.
Twice the blessing.
Double kids.
Twice the messing.
Twins mean double the kisses and double the fun. It's double the joy for everyone!
Buy Twin to Twin hardcover for $8.99

Hand in hand, side by side, a twin is your friend.
Every step of the way, from beginning to end.
A loving ode to twindom, in all its ups and downs.
Buy A Twin is to Hug board book for $6.52
Twins Maureen and Francine are growing apart and there's nothing Maureen can do to stop it. Are sisters really forever? Or will middle school change things for good?
"On the day you were both born, the moon danced with the stars. Welcome to the world, little ones."
A lovely keepsake book to celebrate the arrival of twins.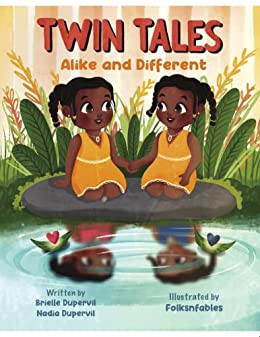 Twin sisters Alexia and Denise might look alike on the outside, but they are very different on the inside. Join the sisters as they reveal what makes them unique. An enduring story of siblings who share a strong bond that parents will appreciate and children will love.
Buy Twin Tales: Alike and Different paperback for $12.99


This beloved picture book from Hyewon Yum is about siblings, sharing, and growing up – starring a Korean-American family – and is now celebrating its 10th anniversary!
Buy The Twins' Blanket hardcover for $11.38

From sharing to playing to helping each other, twins always have a friend by their side.
Discover and celebrate the special relationship they have in this sweet rhyming story all about twins.
Buy We Are Twins board book for $7.62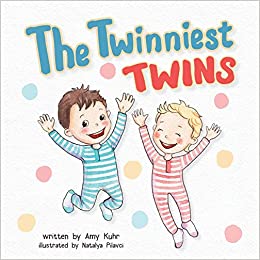 Not two peas in a pod…not double trouble…twins can be as different as they are the same. Every twin (even parents of twins) will enjoy reading this joyful book about being a twin!
Buy The Twinniest Twins paperback for $3.30