Organizing baby shower is super exciting for friends and family of soon-to-be parents. Organizing one for twins is DOUBLE exciting, and can be double stressful. However, if you have ever searched for twin specific shower invitations- you know that it is NOT easy to find.
We found this little gem called basicinvite.com, and they have a TWIN SPECIFIC line of shower invites. Woot Woot!
Not only will you find options just for twin showers, but you can customize most of these invites to various colors. So if you have a specific or color in mind you can still use most of these invitations as perfect twin options.
Here are 10 of our faves
1.    Two peas in a pod
Two peas in pod is a cute little way to let people know that there are not ONE but TWO babies on the way. This is also a great way to have a gender neutral theme.
2.    Mustaches
This is a very cute invite telling the guests that two little gents are on their way. Mustaches are symbols of manliness, ridiculously cute at that!

3.    Duck, Duck, Duck
This is a much more classic theme. Again gender neutral, but very very cute. This is also a great invite to focus on MOM, and not so much the twins.
4.    Mustache and a bow
This is the perfect invitation to celebrate Boy/Girl twins. If you thought finding twin invites were hard- try finding invites that are for Boy/Girl Twins. Now this one is SPECIAL
5.    Two plus two equals four
This is a great invite for a family that is expecting twins, and has no other children. I feel like this is a great cute shower invite that covers all of your basis. Neat, classy, cute and to the point.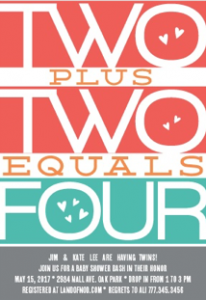 6.    Double Bows
If you are hosting a shower and celebrating two girls coming into the world, then I suggest this one! Very cute Girl/Girl option, and this would also make for a great overall shower theme
7.    Baby, baby…
This invite is for the modern stylish shower to celebrate boy/girl twins. I love this one for the simplistic design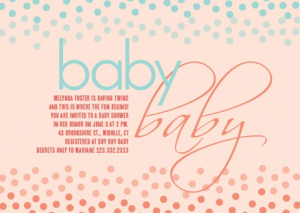 8.    Twin Arrows
This is also a great gender neutral option. I like this invite because it does not limit the theme of the shower. Although if you were throwing a cowboy boots theme (which I am a huge fan of) this would be an awesome invitation to tie in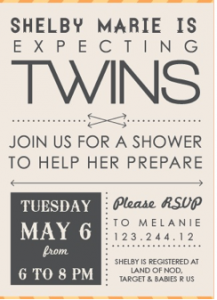 9.    Whoos Having Twins
This is ANOTHER great cute option for Boy/Girl Twins. Although PLEASE NOTE THAT YOU can change the colors of the owls to match Boy/Boy or Girl/Girl themed showers. This invite celebrates mom and both babies. It also opens the door to a really cute owl themed shower
10. Might as Whale
This has to be one of my favorites. You can change the colors of the whales to be specific to boy/girl or girl/girl or boy/boy twins. No one appreciates options more than me! I happen to love this invite because it is unique and the writing on it is very stylish
Now that you have your invitations. Don't forget the gift. If you are struggling with gift ideas then we recommend you read: 10 Baby Shower Gift Ideas