Here is list of  best Life Lessons from a father to his teens which will going to help them through out thier life:
1. Maintain Your Perspective — Choose Respect Over Popularity
As a teenager and young adult, popularity may seem to be very important. In reality someone being popular does not fully correlate to someone being worthy of respect and trust. Sure, people may like to hang around with the fun, outgoing person who is popular. But in a pickle, will that fun, outgoing person come through when you need them? You may be lucky enough to be both popular and viewed as worthy of trust and respect. However, if you have to make a choice, choose the pursuit of respect over the pursuit of popularity. There's a bonus, too. You will often move up a person's personal popularity rankings as a result of the trust and respect they have for you.
2. Make Good Decisions — Choose Honesty & Integrity Over Everything Else
The highest compliment you can receive will be for being honest and for following through on your commitments. As we grow up, we are often faced with difficult decisions where being honest and maintaining our integrity may be uncomfortable and difficult. In fact, it takes constant focus and real effort to stay on the correct path. People always tend to know when you aren't being honest. The more teens witness deception and a lack of integrity, the easier it is to accept a lack of it in themselves. Think about how you feel when you when you make a bad decision and are less than honest. Examine what led you to go astray. Remember the
importance of honesty and integrity
so you make the best decisions and form the right habits to maintain your own.
3. Set Priorities — Do What Is Right, Not What Is Easy
With the busy world we live in, it can be tempting to take the easy way out of situations. This is especially true when nobody is watching us. However, you will know when you take a shortcut and every time you do it, it will become easier to do it again. Soon, you may be in a pattern of doing what is easy far more often then what is truly right. Failing to intervene with a friend who you fear may be heading into homelessness is easier than forcing a very difficult conversation referring him to a
homeless shelter directory
. Doing the minimum required to repair something you broke is easier than fixing it properly. Showing up for an outdoor volunteer slot you committed to when it is cold and rainy is much harder than staying home where it is dry and warm. Look at each difficult scenario and think about what is truly the right way to handle it. Then, ask yourself what you would want someone else to do if they were in this situation.
4. Keep an Eye on the Future — You Will Compete Against the Whole World
It is a critical mistake to focus only on the here and now. You have to ask what is going to happen tomorrow and realize that you need to be prepared for things you cannot know or see today. Taking easy courses and getting good grades is one thing. Taking the difficult classes, taking the right classes for the next year is another. Good grades also don't always equate to real learning. Sometimes a hard-earned B means you actually learned a whole lot more. Realize that you will leave home and encounter people and challenges on a whole new level of playing field that you haven't yet experienced and aren't yet totally prepared for. You won't just compete against your current classmates, but against many others from around the globe who are working hard to get ready to compete against you. You must put in the effort to be prepared if you are to be successful.
5. Resist Peer Pressure and Overcome Adversity — Don't Follow the Crowd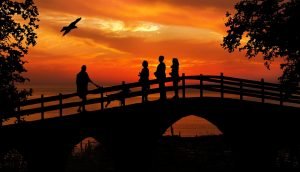 You will experience immense pressure to go along with the crowd and you should be aware of how frequently teens make stupid decisions and get caught up in the moment. Recognize the choice when you see it: you can follow the crowd or head in your own different direction. When a group of kids is teasing someone, don't join in or sit silently by and watch. Instead, stand up for the intended target, step in and defend the person being teased, and tell the others to stop. You will rarely be sorry for taking action. You will often be sorry for the regret you feel for not having taken action.
I Need to Tell You Something
Life lessons from a father for his teenage children Bill Franks
For more information, visit www.ineedtotellyousomethingbook.com
About the Author
Bill Franks
is the Chief Analytics Officer at the International Institute for Analytics (IIA) in Portland, Oregon. He earned a Master's degree in Applied Statistics from North Carolina State University and a Bachelor's degree in Applied Statistics from Virginia Tech. He is the author of Taming The Big Data Tidal Wave (John Wiley & Sons) and The Analytics Revolution (John Wiley & Sons). He wrote I Need to Tell You Something to offer his teenagers lessons in the things that matter the most.