My twin boys just turned 28 months and they are still wearing diapers! I think it's about time they were potty trained and so I ordered a potty seat from NIMA's to test it out and see if it is any match for my boys. The package arrived only two days ago and I am already pleased with the product. Please read on to get all the details in my honest review of NIMA's Potty Seat.
Packaging and Instructions
The package arrived quickly and who doesn't like fast shipping?! I know I do! It also came nicely packed in a unmarked cardboard box. When I opened the box I found the Nima's potty seat
professionally wrapped in a sealed plastic covering. The covering is transparent so you can see the potty seat as soon as you open the box. I got the green one as my boys already have enough blue stuff.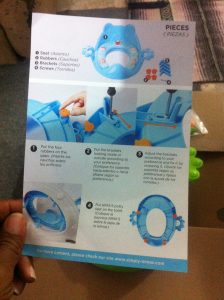 Included in the package with the seat is a set of instructions, 4 rubber 'feet' 4 brackets and 4 screws. At first I thought the seat would work just as well without the little feet and brackets attached but as it turns out, they actually help to hold it on the toilet better. The brackets are adjustable so you can customize it to fit your toilet. The little feet help keep the potty in place and prevent slipping – very helpful when you have a squirming toddler!
Appearance and Quality
The green color of the Nima's potty seat
I ordered is vibrant and bright. One of my boys noticed it right away as he entered the room. I had it on top of the box on the floor and he went to it immediately and asked what it was. He was drawn to the bright colours and cute cartoon characters on the seat. He probab
ly thought it was a new toy but I used his childish curiosity as an opportunity to engage him in the potty training activity.
The seat has two handles at the side what the child sitting on it can hold on to while they are using it. If you are reading this then you already know that toddlers have a lot of energy and anything that can keep there hands occupied, even for a little, gets kudos in my book! The handles also help my boys to position themselves better on the potty when the first get on it. They add to the aesthetic beauty of the product as well.
Assembly and Usability
I am one of those women who doesn't like the thought of having to assemble anything so when I saw the 4 little screws in the package, my heart skipped a beat. Fortunately however, putting in the little feet is VERY easy and the brackets are simple to screw in as well. All you really need is a 4-pointed screwdriver and 5 minutes if you are not particularly handy like me. Parents who love putting stuff together will surely be able to do it in less than 5 minutes.
Perhaps my favorite thing about this potty seat is what I call the 'spray guard' (not sure what it's actually called) at the front of the seat. This amazing feature prevents any pee from spraying out onto the bathroom floor, which is exactly what would happen when I got them to sit and pee on the toilet before I got NIMA's potty seat. Parents of girls may not have this issue but my boys are sprayers! Usings NIMA's potty seat means less work for me as I have zero pee to clean up after every trip to the potty with either of the twins. The 'spray guard' effectively blocks any streams of pee and gently redirects it into the toilet bowl.
In the end my boys seem to like NIMA's potty seat and the do actually want to use it. We are nowhere near being fully potty trained as yet, we only just started, but I do feel better about the whole process because I am using NIMA's potty seat. It is attractive, it's comfortable, it works and my boys love it.
To purchase click here : Nima's potty seat
10 percent off-  USE CODE: NIMAS178
By Zunammie Karen