I have no idea how a busy mother of 4 found the time (or energy, money, props, locations) to do this, but I am completely obsessed with the cuteness factor. Obviously we had to reach out to find out more about these photos.Brittany, who we will affectionately Mom is from a small town in Iowa and has kids ages 9,3, and twins under 1. We asked her how this awesome idea came to play. She said:
I love costumes. I love taking pictures and I love using my imagination. I knew I wanted to do something to make the twins first Christmas memorable. As a SAHM to four kids life is always busy, but I felt bored and like I wanted to challenge myself creatively. So I decided to challenge myself to 25 days of Christmas/holiday pictures. 
And voila-  this awesomeness came to be. We are waiting to see if this mama wins a baby photo contest.
Day 1    North Pole Bakery
Day 2 Frosty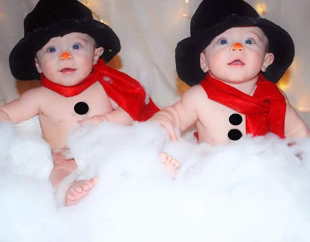 Day 3 Baby Reindeer Arrive at the North Pole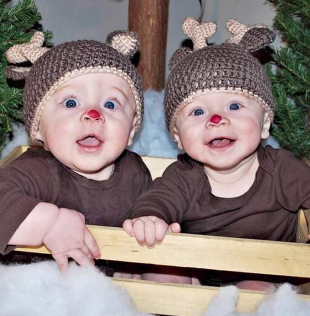 Day 4 Ida and Betty Bringing Christmas Cheer
Day 5 Christmas is so Sweet
Day 6 Seeing Triple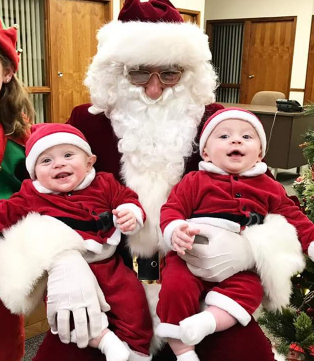 Day 7-  Hard at Work Repairing Santa\'s Sleigh 
Day 8 Baby Lumberjacks First Christmas Tree
Day 9 Red and White Christmas
Day 10 Oh Come Let us Adore Him  
(I mean seriously – who has a nativity scene lying around?)
Day 11 Baby Nutcrackers and Ballerinas 
Day 12 Grandma got Run over by a Reindeer
Day 13 Supervisor Cracking the Whip at the Toy Shop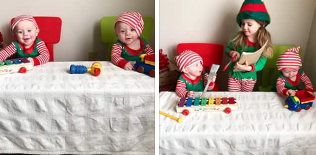 Day 14 The Night Before Christmas
Day 15 Holiday Best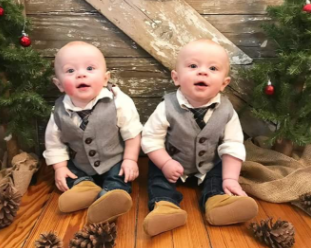 Day 16 The Twins Holiday Album "Gift Rappers" featuring "Back away from My Milk Santa!"  Hitting stores soon