Whether you have little ones ready and raring for their
night of trick or treating
, or if you're just a fanatic for spooky cosplay, creating your own Halloween costumes for kids is a skill you can take to the grave! Think of how much money you'd be saving if you
do it yourself,
and how fun your designs can be when you really get into it! Creating costumes for any time of the year is a great way to always ensure you look awesome and are spending as little as possible. So let's take a look at some simple kids' costumes that you could create from scratch, simply by visiting your local
haberdashery
store (or shopping online of course..!)
DIY Haberdashery Halloween Costumes for Kids
Patchwork Wings
Whether your child wants to be an angel, a fairy, a scary owl, a fire-breathing dragon or a tropical bird, you can create a pair of stunning and colorful wings using
patchwork squares
! I always found those plastic wire wings that you can buy from toy stores a nightmare when it came to getting in and out the car or house. They would get in the way, catch and pull on things etc. So these lightweight fabric wings are a lovely alternative that look even more effective for costumes that require feathers or scales!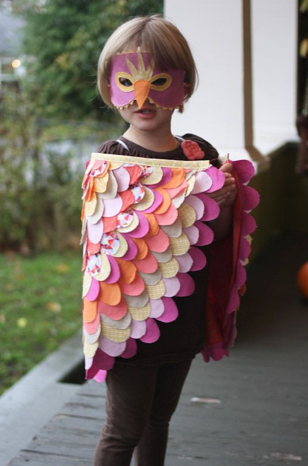 2. Scarecrow Costume
Whether it's for Halloween or a harvest festival, there is no better costume for the month of October than a scarecrow. Depending on whether you want the look to be super cute or super terrifying, use the same method but just alter the colors from bright to gothic. Take a pair of old denim jeans or dungarees and stitch colorful patchwork squares onto them, stuffing the pockets with straw. Use checked farmer shirts for underneath and get creative making a hat from hessian – then they'll be sure to scare off those pesky crows!
Elderly Lady Costume
Have you ever seen anything more hilarious and adorable than this!? This precious idea works extremely well on your toddlers who are recently walking! Using old baby clothes, customise them with ribbons and buttons that you can get from any haberdashery store, to create a vintage get-up for your baby. Cotton wool hair is a lot more friendly than an itchy wig and you can keep it in place with a lightweight bandana scarf! Make the zimmer frame from cardboard or plastic tubes wrapped in silver tape and be sure to put stoppers on the end so that nobody's toes are in danger!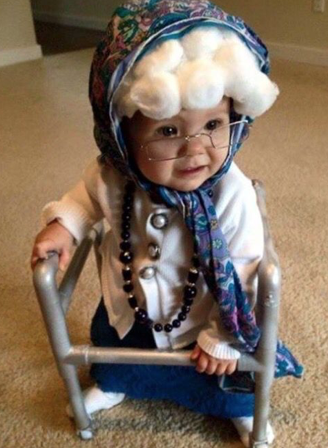 Jellyfish Costume
I love the idea of creating something as simple yet effective as this costume. The jellyfish could also be made using an umbrella with lots of ribbons and fairy lights! However, these
fabric hats
save you from carrying a brolly around with you all night (though it's useful for this British weather if you're out trick or treating!). Using shimmering sheer and sparkly fabrics, create the illusion of mesmerizing floating jellyfish by blacking out your bodies using morph suits or just dark clothing. Use battery powered lights, crinkled streamers and glittery ribbons to create the tentacles.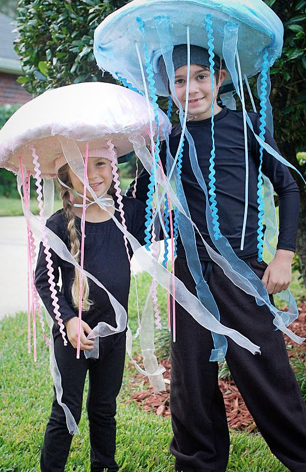 For all your Children to get Involved in
This incredible Finding Nemo costume could get all your family members involved! For now we have little Nemo in his wheeled tank and Darla stood lovingly behind him – though it's been executed well, this is a really simple idea to bring to life! Using cling film the family have managed to create an illusion of a tank filled with water, by wrapping it around poles in either corner of the pull-along crate. The fish have been cut out of cardboard and propped up using cardboard straws. Fake foliage and pom poms have been added to the surface to replicate the bubbles and greenery that would be found in the real Nemo's tank! As for Darla, her braces have been created using pipe cleaners wrapped in tin foil!
The options are endless. I suggest investing in a
top rated sewing machine
before you get started.  All these costumes (and more) can be created with a little bit of imagination.