We all know that the gift of the season, for kids,  is candy. But if you're thinking about buying your kids a seasonal gift or party favors for a Halloween party, look no further! Here is a list of all the adorable toys around this Halloween!
Halloween Wind Up Toy Assortments
– $17.95
This perfect Halloween party favor. It can be used as Trick or Treat Handouts, Halloween Party Gift Goody Bag Fillers, or just a treat for your twins! The w
ind up characters include popular Halloween figures such as a vampire, mummy, Frankenstein, and more. One purchase comes with 12 different figurines and each is about 1 to 1 1/2 inches tall.
LEGO Holiday Halloween Haunt– $15.00
This LEGO set includes 2 minifigures: a vampire and a skeleton, plus Rat and spider figures. It has b
uildable accessories and elements include a fireplace with black gates, fire, pumpkin head and a cauldron. It's a super cute way to get the kids in the spirit and this particular set is fairly gender-neutral so it's ideal for either. 
LED Light Up Wands 4 Pack– $14.99
These fun Halloween light sticks make great party favors, prizes, treats and more! They're g
reat to take trick-or-treating! Not only are they great Halloween costume accessories, but the flashing wands also work as light sticks to help be seen while trick-or-treating. Plus– you can c
hoose between 3 different light changing modes, an exciting feature for the kids.
"Do You Want to Build a Jack O' Lantern"– $9.88
This foam putty can be molded into a Jack O' Lantern, perfect for party favors or as a fun Halloween-inspired activity for the kids! The set comes with a
8-piece Jack O Lantern set, including: orange putty, 2 arms, 2 eyes, 1 nose, 1 stem & 1 mouth. Perfect for a family arts and crafts session!
 LED Light Up Halloween Pumpkin Necklace– $8.99
Wear your jack-o'-lanterns with these LED Pumpkin Necklaces, the perfect Halloween accent for racking up smiles while trick-or-treating and also ensuring passing motorists can see you, standing out at block parties, Day of the Dead events, and more. 
Choose from 6 distinct light settings, ranging from slow glow to fast flicker, to keep safe & seen or to transfix with a mesmerizing light show that steals smiles and attracts attention.
Jack-O-Lantern Pumpkin Bouncing Ball– $9.95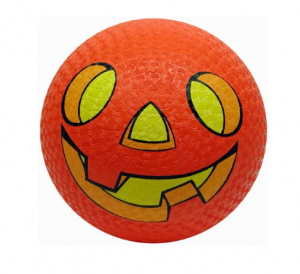 This high quality Jack-O-Lantern bouncy ball is s
ure to be a hit with kids and toddlers this Halloween. Its c
lassic orange Halloween design is the cutest idea to get children in the spirit! Also, it's a great activity for the kids to outweigh all the candy and sweets.
Baby's My First Pumpkin Play Set
– 
$25.00
Visiting babies this Halloween season? This pumpkin play set it PERFECT! The plush characters are ADORABLE and the set comes with:
Candy Corn – Crinkles

Ghost – Squeaks

Spider – Rattles

Cat – Meows
Halloween Rubber Ducks – $7.90
These rubber duckies make great party favors for small children. They're small, cute and squeak! (most important part for the kids). Some of the people who bought this adorable set thought it would be a unique idea to toss a couple duckies for the trick-or-treaters and others said it was a hit for their kids during bathtime! It comes in a set of 12 duckies that come in  pumpkin, ghost, black cat, skeleton, werewolf, and vampire designs. However you choose to celebrate this Halloween season, make sure you take lots of pictures! Stay safe and have a great spooky season!