mamas! gosh, it\'s been pretty long since my last post, huh? – sorry about that! with my due date creeping up, i\'ve gotten super busy and the days are just flying past me! but don\'t worry – lots have been going on, which means lots of upcoming content just waiting to be shared! 🙂 first up: 
my baby shower
so my baby shower was on Sunday, June 26, and it was AMAZING! I really want to thank my 2 sisters, my mama and my sister-in-law and mother-in-law for everything they did to throw us such an awesome shower. the food was delicious, games were fun and hilarious, and (most importantly) the dessert table was 
on. point.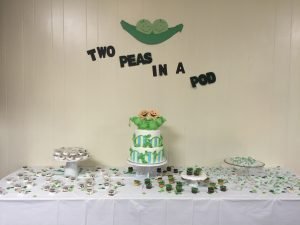 we had just about 100 people there (ours was a jack & jill) and it was so wonderfully overwhelming to see everyone, showering our twins with so much love and excitement! i loved catching up with everyone i haven\'t seen in a while, and it actually wasn\'t that annoying having everyone touch my belly LOL.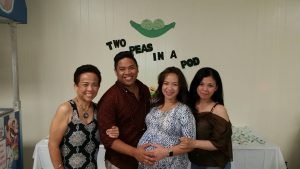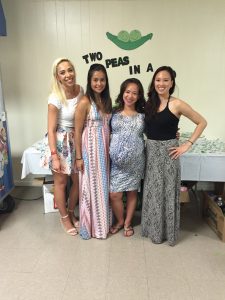 our theme was 
"two peas in a pod", 
a lot of the decor was DIY, and everything was so cute! we had a diaper raffle, a polaroid photo booth, sangria station, homemade italian ice, and – just to mention it for the second time – a bomb-ass dessert table! lol after the shower was over, after we watched the season 6 finale of 
game of thrones 
(which, btw,
DAAAAMNNNNN!!!
), we got to open all of our presents, and i can\'t say how blessed and thankful we feel to have so many loving people surrounding us and our boys to not only spoil them with love, hugs, and kisses, but who will also be there to show them how to shoot a basketball, take them to sporting events, read them comic books, teach them how to dance salsa and so so much more.
here are a few tips for you mamas who are still planning their shower:
don\'t sweat the details! everyone will be there to have a great time with you and celebrate the new life that is coming! no one will care if your shades of green are the same, if the tablecloths are white or ivory, etc. Spend your energy focusing on whatever is important to you – big personalized cake? delicious food? fun games? … make it YOUR shower – not what you think a shower should be!! do whatever you want, girlfriend!
savor this time! this is probably the last chance you have to have all the people you love together in one place – enjoy it! spend time with everyone, catch up, and laugh! going back to my first point… don\'t sweat the drama that might come up on the day-of… just be there, in the moment, enjoying everyone\'s love. no point in worrying about making sure the day is perfect – the day is here! just live it.
have fun. this speaks for itself and just lumps everything into one, but this is the most important one of them all. what good is a baby shower without any fun, amirite?
what were your baby shower themes? what games did you play? what are some other tips you guys have for fellow mamas-to-be? now that the shower is over, we have a lot of prepping to do. only 6 more weeks until i\'m 38 weeks pregnant, which means the clock is quickly ticking. lots of nursery prep coming up in the next few weeks, so look out for that blog! to do list:
follow me on IG (@dimas_duo)
sign up for the twinmom.com newsletter
enjoy the week ahead! 🙂
Happy Twinning! <3 Krysty