Check out our list of the top 10 must-reads for children.


1. Goodnight Moon by Margaret Brown (1947)



Listed by School Library Journal as the 'Top 100 Picture Books' of all time in 2012 and one of teachers' top 100 books for children by National Education Association, Goodnight Moon is a simple but lovable children's picture books that has been well-appreciated by children as a bed time story.

Buy now on Amazon for $7.36.


2. The Very Hungry Caterpillar by Eric Carle (1969)



One of the greatest children's classics of all time, The Very Hungry Caterpillar pictographically describes the evolution of caterpillar eating his way through an array of food to eventually pupate into a beautiful butterfly.

Buy now on Amazon for $0.64.


3. Where the Wild Things Are by Maurice Sendak (1963)


1963's most distinguished American picture book for children, Where the Wild Things Are won Sendak the Caldecott Medal and is a delight for both kids and adults.

Buy now on Amazon for $9.98.


4. The Cat in the Hat by Dr. Seuss (1957)


This children's story revolves around an anthropomorphic cat who shows up at Sally's house, makes a mess while entertaining her and her brother and cleans up with the help of his friends, Thing 1 and Thing 2 just before Sally's mother comes home.

Buy now on Amazon for $10.94.


5. Charlotte's Web by E. B. White (1952)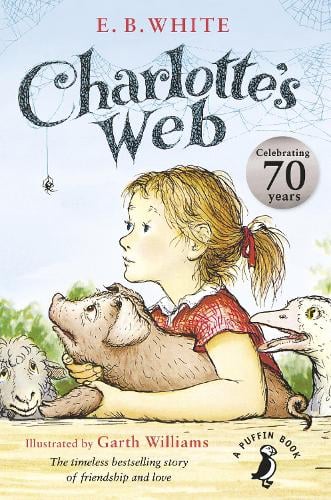 The story is about a pig named Wilbur and a spider named Charlotte; when the farmer is about to slaughter Wilbur, Charlotte uses her web-making skills to create praise-worthy words for Wilbur to save him from slaughtering.

Buy now on Amazon for $14.10.



6. Harold and the Purple Crayon by Crockett Johnson (1955)


Crockett Johnson's stories of Harold and his purple crayon have captivated readers of all ages for generations. Now two of Harold's most popular adventures are packaged together in this must-have board book gift box. Perfect as a baby shower gift or for expanding a family's Harold library, these board books are just the right size for little hands and sharing aloud at bedtime.

Buy now on Amazon for $10.06.


7. Charlie and the Chocolate Factory by Roald Dahl (1964)


Willy Wonka's famous chocolate factory is opening at last! But only five lucky children will be allowed inside. And the winners are: Augustus Gloop, an enormously fat boy whose hobby is eating; Veruca Salt, a spoiled-rotten brat whose parents are wrapped around her little finger; Violet Beauregarde, a dim-witted gum-chewer with the fastest jaws around; Mike Teavee, a toy pistol-toting gangster-in-training who is obsessed with television; and Charlie Bucket, Our Hero, a boy who is honest and kind, brave and true, and good and ready for the wildest time of his life!

Buy now on Amazon for $0.94.


8. Little Women by Louis May Alcott (1880)


As a New England mother struggles to support her family in the wake of her husband's service in the Civil War, her four daughters struggle, too—caught between childhood dreams and the realities of burgeoning adulthood. For Meg, Jo, Beth, and Amy March, raised in integrity and virtue, negotiating the right path in life means making choices that will either narrow or expand their destinies.Based on the author's life, Little Women transcends genre, gender, and class with its examination of personal quests, societal restrictions, family ties, and the end of innocence.

Buy now on Amazon for $7.99.


9. Harry Potter and the Philosopher's Stone by J. K. Rowling (1997)


The first of the seven-part series written by J. K. Rowling is not only a novel but a legacy that will live on for many years to come. Harry Potter has been adapted into blockbuster films, won numerous British and American awards and reached New York Times' best-seller list. The plot involves the boy himself, Harry Potter who discovers he is a wizard and begins his life at Hogwarts School of Witchcraft and Wizardry.

Buy now on Amazon for $5.24.


10. The Chronicles of Narnia: The Lion, the Witch and the Wardrobe by C.S.Lewis (1950)


Set in a fictional land called Narnia with talking animals and mythical creatures and their ruler, the White Witch who has ruled for a 100 years, The Lion, the Witch and the Wardrobe is the first of a seven-part series by C. S. Lewis where four children, the youngest of whom can visit Narnia through his wardrobe closet.

Buy now on Amazon for $7.02.