After you deliver your baby, you should be able to get to your pre-pregnancy weight in about six months. A recovery from a C-section takes longer than a vaginal birth. You do not want to hurry and get involved in a weight-loss regimen. Give yourself six weeks before you start losing weight. Wait two months if you are breastfeeding.  Gradually start your weight-loss and exercise program. Eat right and keep breastfeeding to lose weight.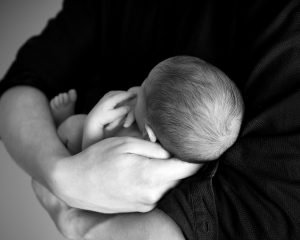 Breastfeed Your Baby
When you breastfeed your baby, you can shed more weight. If you choose to do this, you lose extra pounds because you burn more calories to feed your baby. The US Department of Agriculture states that breastfeeding mothers lose more weight in three months after having their baby than mothers that do not breastfeed. If you keep breastfeeding from four to six months after birth, you continue to lose weight. The best part about this is that you do not have to make a lot of effort to see results. According to
LaLeche League
, follow your normal diet and eat when you are hungry. You will keep losing weight.
Start Exercising by Walking Regularly
KidsHealth states that walking following a c-section prevents blood clots and it helps speed your recovery. Talk to your doctor first. After six or eight weights, you can increase your activity level. Begin gradually by doing toning and aerobics. Exercises like walking, swimming, jogging, or biking can all help according to a noted physiologist. As you increase your activity, make it a point to eat 100 calories less each day. You will be taking a safe approach and still be healthy to breastfeed.
Eat Healthy
Everyday must start with a healthy breakfast. You will get the energy you need and fight off fatigue. Throughout the day, eat five or six small meals but do not skip any. Also drink eight glasses of fluid, preferably water, every day. Doctors state that water flushes fat out of the body to help you lose weight. Eat nutritious foods that have lots of vitamins and minerals but not a lot of calories. Choose whole-grain breads, pasta, and rice. Avoid refined grains and eat lots of fruits and vegetables. When you want milk or cheese, choose the low-fat varieties.
Limit the Amounts of Unhealthy Foods You Eat
Try a little help with
HCG drops
to help aid weight loss. Every new mom deserves to indulge in dessert occasionally. Eat cakes, candies, and cookies sparingly because they contain fat, sugar and calories. These will push the scale up and not down! It is important to snack on healthy foods, too. Avoid too many salty snacks like chips. Choose fruits or vegetables. Also, be careful to avoid soda, juice and sugary drinks. The sugars and the calories in these beverages can really add up fast and put a damper on your weight loss efforts.