My little one started moving and
 there was no way to stop his curiosity, and to keep my baby out of trouble I had to
baby-proof
my home. I ordered the Edelein Child Safety Locks to keep my baby from getting hurt. The package arrived very fast, which helped because I procrastinated. It arrived perfectly packed. When I opened the box, I found a pack of two locks in case I needed to lock something else. The white color of the
Edelein Child Safety Locks
I ordered is bright and vibrant. Included in the package is a set of instructions, and I was really excited to see  that you don't need screws to install them on the fridge or trash can. I have to say; these are the best child locks I have used. I have had these safety locks for a couple of weeks, and my son hasn't figured them out at all yet. Unlike the other ones where he was able to figure them out where there is one button to push within a week. I am happy with the final product for sure.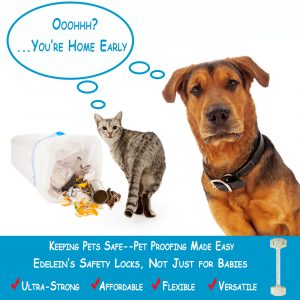 The manufacturer is also right when they say that the locks can also work for pets. I had a difficult time since my little dog could always open the trash can and destroy whatever was in there. And I have to say these locks are worth considering, they are inexpensive, and not cumbersome for adults to open. Plus I was surprised to see that this product had won the Amazon's choice for "Trash Can Locks"! It has been a week since I fixed the locks on the Trash Can and my dog has no leverage to pull the top off. I am very impressed with the strength of these little safety locks. When it comes to fixing these safety locks to the fridge, it was super easy. There were no screws needed to get the job done. If you love putting things together like me, I am sure it will take less than 5 minutes to fix it. My favorite thing about this safety locks is that they won't damage your furniture or even appliances, and they are effortless to remove. So you won't find it difficult opening the drawer or fridge. Also, they are adjustable and very flexible around corners. So if you are looking for a perfect solution to prevent accidents and keep those curious hands safe, then the Edelein Child Safety Locks are an excellent choice for you.
What I liked most about these safety locks
They are very easy to install since there is no drilling needed.
They are very easy to use – I was able to use one hand to squeeze them to open.
They are very well-made and durable.
They are excellent quality – keeps my baby out of the fridge.
They are versatile.
Buy
Edelein Child Safety Locks
 Today on Amazon