Paint & sip parties are fun for small and larger groups. Go with family members or friends to enjoy a night with entertainment and some laughs. Here's the top 5 paint & sip party companies to consider.
Paintbrushes & Party
To the north of the county in Poughkeepsie is Paintbrushes & Party. Rated one of the best by tourists and locals alike, the company hosts classes and parties to suit your needs. You get
lessons from local
artists, while you just have fun with your friends and unleash the creative beast.
Grape Canvas Parties
Grape Can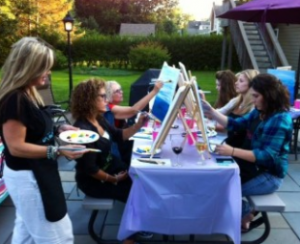 vas Parties isn't just for adults, but also for businesses and kids. The major difference with this
paint & sip party
company is that it will travel to you. All you have to do is book the venue or open your home, and Grape Canvas Parties takes care of the rest. There will be absolutely no mess left behind.
Art on Fire
You don't just have to paint on a canvas. Art on Fire opens the doors to painting on pottery instead. There's a range of premade pottery options for you. At the party, everyone will get to do something different.
The Pottery Factory
The Pottery Factory is by far the best if you want a range of items to paint. In fact, not all of it will involve painting, as there is glass infusing or candle and soap making available. There's no need to book a time if you have a small group, with walk-in sessions avilable.
Paint Creative Lounge
This one is just on the outskirts of Dutchess County, but it's still worth adding to your list. You can sign up for the paint & sip events online, making it easier to book in a large group. There are also kids parties available.