Autumn is by far my favorite month. I'm not one for basking in the heat, I'm far too active to stay still for that long – but equally I find the cold of winter a little bit depressing when it stops me from venturing outside. Spring is nice, but it's autumn where I feel the true seasonal magic. Everything changes – the leaves fall from the trees, the landscapes are golden brown and there's this raw energy present, seeing nature evolve and transform. It really is beautifully spectacular. Plus, I adore winter fashion – but when you can still leave the house two or three layers rather than six! I am an equestrian, I go for rides at least four times a week on my gorgeous appaloosa warm blood named Napoleon, and it really is my favourite way to spend my afternoons. As a regular rider, I find that throughout the seasons the gear and equipment I am wearing and using alters slightly depending on what the weather is doing. For example, in the winter snows I need riding boots with a thicker tread or stronger grip, and I also tend to put fluffy insoles into the bottom of them for extra insulation. In the summer I prefer my lightweight, short jodhpur boots as they're more versatile. I've been hunting around for some new boots for riding in this Autumn – I fancied a change from my lovely
Spanish riding boots
, but only because I have had them for years and decided to treat myself! I'm sharing some of the finds I came across on my internet travels because I simply can't decide which to get out of them!
 The 3 Best Riding Boots for Autumn 2016
POLO BOOTS
I'm a big fan of androgyny, so my eyes were drawn straight to these masculine looking
polo boots
from The Spanish Boot Company (where I had my last pair from too!). The craftsmanship that goes into these leather boots is undeniably of the highest quality, and the overall aesthetic is so authentic – something most high street copycats will lack.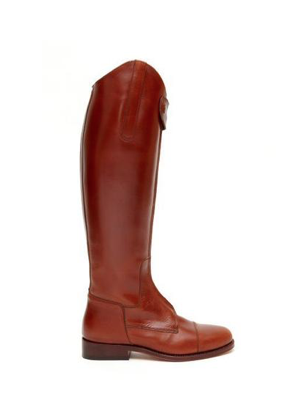 I don't play polo, but that doesn't matter because riders can use these every day for their outdoor activities. Actually, they look good enough to stroll around the town in for those fashionistas amongst us, as they also come in navy and black! FEATURES: knee high, leather lined upper, full length front zip, Goodyear welted leather sole, made in Valverde del Camino, Spain,
water resistant if maintained
, unisex style.
CABALLERIA BOOTS
These bespoke beauties are currently topping my list. The La Caballeria Collection is a small selection of absolutely amazing, eye-popping suede riding boots that you can
customise to your own
unique tastes! My personal favourite is the purple suede tall boot and red tassel/zip detailing – this particular combo was actually commissioned to celebrate the Queen's 90th birthday at Royal Windsor Horse Show – hence it being dubbed La Reina.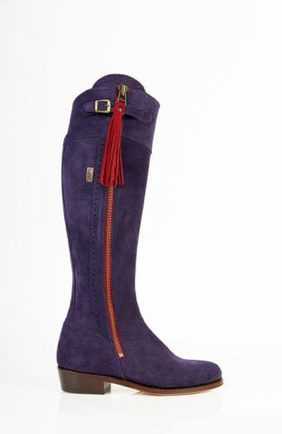 You can choose the base color, zip and tassel color and then the heel style which includes a very stylish cuban heel! FEATURES: knee high suede boots, leather lined, brogue detail, tassel, full length outside zip, Goodyear welted sole, made in Valverde del Camino.
ROCEIRO BOOTS
These Roceiro boots are really nice for everyday casual wear. The Spanish riding boots I have at the moment are quite fancy looking, whereas these more androgynous, plainer looking leathers are ideal for easy days when I want practical, quality footwear over anything loud and colorful.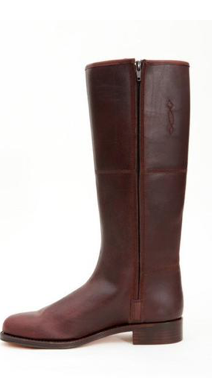 I also love this warm soft brown color, I have a matching satchel that will look brilliant with these! I can envision these being worn in fields and on the back of Napoleon, yet at the same time they wouldn't look out of place in a pub or shopping centre; an ideal shoe for everything. Generally these come with a narrow calf but there is an option to choose a wider fit, with or without a zip and they come in black and tan. FEATURES: waxed leather upper, pull-on or zip option, wide fit option, water resistant if maintained, Goodyear welted leather sole, made in Valverde del Camino, unisex style.