Finding the perfect gift for an expectant mother can be tricky sometimes. Yes of course you have the registries that you can always go by. But what if you want to get something different? Out of the box? Here are some very innovative and cool best gifts ideas for moms-to-be.
Custom Books
Purchasing custom books where you can put the babies name in the story is an awesome gift that is sure to stand out from the crowd. There are a lot of online companies offering this service, price ranges from $20 – $40. It's a lifetime keepsake that will always be remembered.
Bracelet
A perfect gift for a sweet baby girl is to get an infant bracelet; a simple silver bracelet can be given as a gift and worn by her until toddler age. It will compliment every picture and a constant reminder of something special you contributed to her life.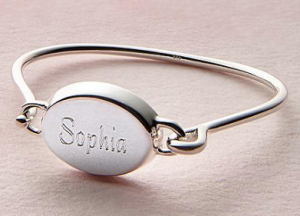 Maternity Clothing
Don't let the expectant mommy settle on old clothes during pregnancy. This is the perfect time to dress up and feel confident, knowing that a special being is growing inside her. Buy clothes that are comfortable, light, and attractive. Make sure that they provide stomach support, as well. During pregnancy, the growing uterus eventually puts a lot of pressure on a woman's vena cava, the vein that allows blood flow from the legs to the heart. This leads to swollen legs and feet, a condition called
edema
. While edema is completely normal during pregnancy, it is, unfortunately, an uncomfortable experience. Compression socks may save the day as they can alleviate swelling and discomfort. For better results, tell the mom-to-be to
try using compression socks
at the beginning of the day. Consider the style, fit, and level of compression before buying.
Stools
Custom stools are always something a parent will need that is typically not on there registry list. When there babies are evolving to tots they will need the stools to step up to the bathroom counter to brush their teeth, in the kitchen helping mommy prepare lunch, and to reach books on their dresser. Finding a stool and then having there name monogram is a great gift for any budding family.
Plates
Not long after the bottle stage babies will
begin to eat baby food
and now you can find custom baby plate sets. If you know if it's a boy or girl you can get them gender specific or a neutral set. The best part is if you search in time you can order them with their names on the plates, forks and spoons!
Mommy and Me Shirts
A parent favorite is to purchase Mommy and Me or Daddy and Me matching t-shirts! They have them for every personality and add so much fun to being a new parent. The shirts can have funny quotes to trending topics and it makes for picture perfect moments for parents and their little ones that are lifetime memories. Our favorite Mommy and Me/Daddy and Me apparel shop is MiniMeForever.com