Recalls typically happen on products when a safety issue has been identified. Over 900 million (that's right- MILLION) products are recalled each year.  This is especially important for parents because we use so many different products with our kids, and some recalled products are a matter of life and death. We discovered a site, called
Bonnie
, which helps identify product recalls (in real time), and after doing some digging, I wanted so share some of the most common baby items that some of us probably own that have been recalled without us knowing.
Honest Company Wipes
The Honest Company has issued a recall of some of their baby wipes because some
packages might contain moldy wipes. Recalled wipes from the natural beauty company include 10-count, 72-count, 288- count, and 576-count packages, and the wipes can also be found in Honest Diaper Cakes, Baby Basics Gift Sets, and Baby Arrival Gift Sets from The Honest Company. Affected UPC codes include:
10-count packages, UPC 0817810011276, 0816645024079, 0817810011276
72-count packages, UPC 0817810011863, 7000000011863, 0816645023584, 0816645023591
288-count packages, UPC 0817810014680
576-count packages, UPC 0817810028540
Pink toddler swings from Little Tikes
Little Tikes is recalling about 540,000 2-in-1 Snug'n Secure pink toddler swings. The plastic seat can crack or break, posing a fall hazard. The firm has received about 140 reports of the swing breaking, including 39 injuries to children. The swings have a pink T-shaped restraint in front with a Little Tikes logo. The swing is suspended by four yellow ropes. The model number is 615573, and the manufacturing date code stamp appears on the back of the swing seat.
Cradle 'n Swing from Fisher-Price
Fisher-Price has recalled about 34,000 baby cradle swings, in cooperation with the U.S. Consumer Product Safety Commission (CPSC). Model numbers: CHM84, CMR40, CMR43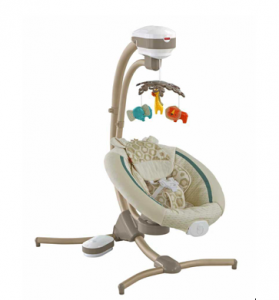 If the seat peg isn't fully engaged, the seat can fall unexpectedly, posing a risk of injury to the baby in the swing. Fisher-Price has received two reports of seat pegs coming out and causing the seat to fall. The Fisher-Price Cradle 'n Swings have padded seats mounted on a frame. When turned on, the swing gently rocks the baby in the cradle.  This recall is for the following three models of Fisher-Price
cradle swings
: CHM84 Soothing Savannah Cradle 'n Swing, CMR40 Sweet Surroundings Cradle 'n Swing, and CMR43 Sweet Surroundings Butterfly Friends Cradle 'n Swing.
Crib mobile from Skip Hop
Skip Hop has recalled about 3,500 crib mobiles in cooperation with the U.S. Consumer Product Safety Commission (CPSC). An additional 850 were sold in Canada.
The strap attaching the mobile to the crib can break, posing an injury hazard to the baby in the crib. Skip Hop has received 8 reports of the strap breaking. Look on the back of the mobile base for the printed name Skip Hop and the model number 185509. The recalled crib mobiles were sold in Babies R Us, Buy Buy Baby, and other specialty stores nationwide.
Stroller from Stokke
Stokke has announced a recall of about 400 strollers, in cooperation with the U.S. Consumer Product Safety Commission (CPSC). The stroller handle can break, posing a fall hazard to a baby in the stroller. There has been one report of a handle breaking in the United States and eight reports from other countries The recalled strollers were sold in baby boutiques and other stores, as well as online from November to December 2014 for about $1,300. They were made in Norway.
Video monitor rechargeable batteries from Summer Infant
Summer Infant announced a recall of about 800,000 rechargeable batteries for video baby monitors in cooperation with the Consumer Product Safety Commission (CPSC). About 58,800 of these monitors were recalled in February 2011.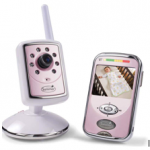 The battery in the handheld video monitor can overheat, posing a burn hazard. Summer Infant has received 22 reports of batteries overheating, including incidents of smoke and property damage. The following monitors may be affected:
| | |
| --- | --- |
| Baby Touch® | 02000, 02000Z |
| Baby Touch® Plus | 28520 |
| Best View | 28030, 28030Z, 28035, 28280Z |
| Best View®  Choice | 28460 |
| Complete Coverage® | 28040 |
| Dual Coverage™ | 28510 |
| MultiView™ | 28490 |
| Peek®  Plus | 02230 |
| Private Label Baby Sight | 3927000H11/A, 3927003H12 |
| Safe Sight™ | 28530 |
| Secure Sight® | 02040, 02040Z |
| Sleek & Secure® | 28270 |
To find out about more products that have been recalled, I suggest signing up for
Bonnie
. When it comes to our kids, it's important for us to know about faulty items.  Bonnie is on a mission to help families live a safer life. You simply sign up with your email, and Bonnie's Receipt Scanner will locate and analyze your past and future purchases. If your item is recalled, Bonnie emails you the details and instructions to solve the problem and protect your family. Every 8 minutes a baby is injured using a nursery product. This is a no brainer for us. Please take a moment to protect your household by signing up.