Have twins? That can be expensive. Have twins that rest at the same time? Priceless. My boy/girl twins are 10 weeks old and they are very different. They are eating differently, growing differently, and sleeping differently. Unfortunately, we often struggle with getting both babies down for a nap at the same time in between feeds. Without that simultaneous quiet time, it's hard to get much done around the house. My husband and I have tried several types of swaddles, seats, and baby loungers. Recently, we also tried the Kepi Swaddle Sets for our twins and it was a win! We can say it is safest swaddle in the market. When I was first picking out the Kepi Swaddle Sets for my kids, I noticed their website has a very large variety of designs and colors to choose from, all of which are aesthetically pleasing. After ordering ours, the swaddles arrived in the mail in neat, organized boxes. Each box contained the support swaddle and lounger, both wrapped in a cute cloth bag.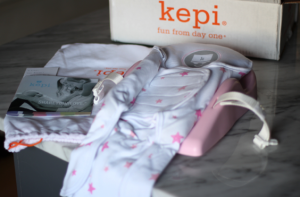 After examining the swaddle sets closely, I felt the product materials are good quality. Directions didn't seem necessary, as the product seems straight forward. The packages each came with a booklet, though, that shows example pictures of how other people have used the swaddles. At first, the swaddle set lounger seemed to be rather firm. I wasn't sure how the babies would take to it. However, as soon as I wrapped my twins up in the swaddles and bucked them onto the lounger, they both immediately calmed down. Both appeared very comfortable and happy. My daughter fell asleep in hers within 5 minutes. My son went from crying loudly to resting quietly within moments.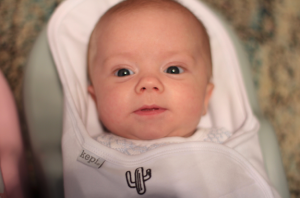 When we picked up the babies while they were in their swaddle systems, the support for the head, neck, and spine was noticeable. I didn't feel like their heads were rolling around, as the twins are still working on their head control. It also keeps their hips straight while still allowing them to kick freely. We read on the Kepi website that this swaddle kit can reduce the risk of hip dysplasia. This was especially important for us to learn because our daughter spent the last trimester of my pregnancy in the breech position (putting her at risk for hip dysplasia).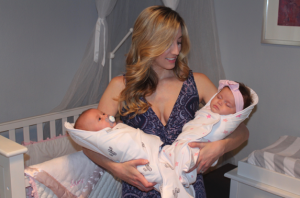 After feeding the twins and putting them back to sleep in their Kepi swaddle systems, we also noticed the slight incline that the lounger offers. As a pediatric nurse practitioner, I've cared for many children that have endured sequelae from reflux and aspiration events. Oftentimes, parents don't realize the importance of keeping their babies' heads up at an angle after feeds to prevent these issues. All that said, I appreciate the design, especially as my boy twin has notable reflux. I can now put him down to sleep after his midnight feed and not have to worry about whether his reflux is going to be a problem or not. In addition to liking the aesthetics, quality, and design, I also like the cloth material of the swaddles. They are soft and feel as though they will be durable. If one of the babies has an accident in the swaddle, they would be easy to clean. There is a zipper on the back of the swaddle that allows you to remove the firm support piece in order to put the cloth in the washing machine. While the price for the Kepi Swaddle Sets are on the expensive side (an entire set will run you $128 each), in my opinion, the pros outweigh the cost. Personally, I plan to continue using these sets until the twins outgrow them. If you have babies and want them to rest comfortably and SAFELY, then the Kepi Swaddle Set is for you!
By: Michelle King Joyner Read more by Michelle at  
www.twinsidescoop.com