By:
Dr. Gail Besner
, Chief of Pediatric Surgery at Nationwide Children's Hospital Conjoined twins occur in about 1 in 200,000 pregnancies. In fewer than 10 percent of those cases, the twins are born back to back – unable to learn to walk, unable to look at each other, and often at risk for complications throughout life. Those were the conditions facing Acen and Apio Akello, two beautiful children born in 2014 joined at the spine and hip. Their mother, Ester, was able to come from Uganda to Nationwide Children's Hospital, where we have the capability to perform complex separation surgery, hoping that surgery would help her children live their lives independently.
More than 30 of my colleagues and I successfully separated the children in a 16-hour operation in September 2015. Because of the delicate job our neurosurgeons had of separating the spinal cords, our team was assisted by neurophysiologic intraoperative monitoring technicians who were able to tell us which nerves belonged to Acen and which belonged to Apio, This is the first time this specific type of monitoring has been done in a conjoined twins' separation surgery. All went well thanks to many hours of planning, and telling Ester that her girls' separation surgery had been successful was one of the greatest joys of my life.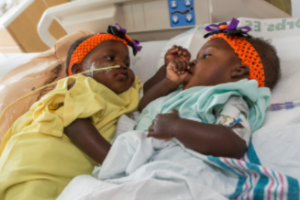 Examining the twins a day later, it was an incredible joy to see them move their legs normally.  They began their healing and recovery, with the two patients staying with their mother at the Columbus Ronald McDonald House and attending regular appointments at our hospital. Due to the nature of their condition, the twins had scoliosis (curvature of the spines) and had to undergo   casting and splinting of their spines to correct this. Fortunately with the committed efforts of the physical therapists, they eventually learned to walk independently. As chief of pediatric surgery, I have faced many difficult procedures, but separating conjoined twins is particularly challenging.  Tragically, many twins who are conjoined die prior to birth, and for those who do not, many are non-separable.  Even when separation is possible, there are cases where surgeons must sacrifice one twin so that the other may survive.  Luckily for these sweet girls, the surgery and recovery was successful, and it has been inspiring for all of us at Nationwide Children's Hospital to see how well the children have done.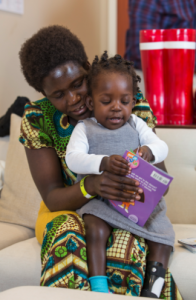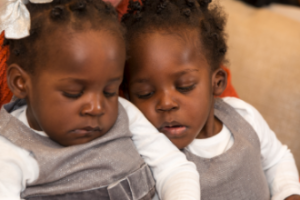 Acen and Apio are now mobile. On January 7, 2017, they left Ohio to return home, capable after a year of intense physical therapy to walk off the plane on their own, expressing their unique, individual personalities. I couldn't be more proud of their hard work and determination in learning to walk. It brings me the greatest joy to know that we were able to give them the chance to live healthy, happy lives.
​ ​​