When I was pregnant with my Twin girls, I had a multitude of symptoms. I was prepared for most of them- The usual: water
retention, nausea, swollen breasts, fatigue….and the list goes on.
No one ever said that my teeth and gums would be effected. During my second week of pregnancy my gums were so swollen that some of my teeth were hard to brush. On top of that my gums would bleed every time I brushed, and my breath was horrible. The combination of all of this made it so that I also had a really bad aftertaste in my mouth after eating.




Apparently symptoms associated with teeth and gums are ANOTHER common side effect of pregnancy. Not all pregnant women deal with this, but if you already have plaque-associated gingivitis then it is likely you will experience this. I don\'t recall a single person talking about it prior to being pregnant. 3 weeks after delivering my girls, I went to the Dentist, and they told me that it is actually very common. With that, I thought I should share it with all of you. Especially if you are expecting, and wondering "What the heck is happening to my Teeth?"
I interviewed expert Dr Liana Muradyan of Infinite Dental Wellness, and she gave me the inside scoop.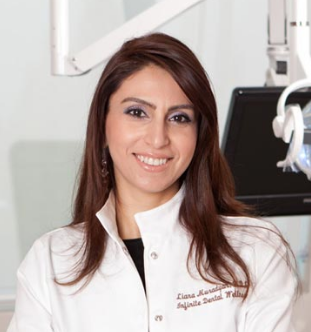 She said that during pregnancy the level of estrogen and progesterone increase, and these hormones cause changes in the blood vessels of our gums. When a pregnant woman already has gingivitis (initial stage of inflamed gums or the presence of plaque) then the situation gets worse and the result is "pregnancy gingivitis".
Usually it appears as red puffy easy bleeding gum lines and more big words I don\'t understand: papillas ( interproximal gingiva). Anyway, It usually starts around the 2nd month of pregnancy and continues up to the end or even after. The severity will also vary in each person.
Dr Muradyan said that instead of waiting until it is hard to control, she suggests taking preventative measures:
More frequent dental visits
Twice daily brushing (with a fluoride toothpaste)
Flossing on a Daily basis
"Pregnant women are at higher risk of tooth decay for several reasons, including increased acidity in the oral cavity, sugary dietary cravings, and limited attention to oral health." Says, Dr Muradyan
If you are in early pregnancy, and may have missed the boat on "preventative" – than simply to keep under control. You can use the tips above but the Dr also recommends: Xylitol chewing gum and chlorhexidine rinses.
During pregnancy the safest period to get dental procedures done is second trimester of pregnancy.
X-rays are only recommended if it\'s emergency, or if there is pain or infection. Numbing is also safe but at controlled dosage , and again ONLY if it is necessary , and can\'t wait until after delivery.