IWe love to host giveaways, but what we DON\'T love is being burned in one. We presented a giveaway for Bloom-Baby over two months ago. We chose a winner at random, and this winner was excited to get her Package of wipes. We got her address and sent it over, and the company just never bothered to follow through with sending the free wipes they promised. NOT only that, but have not responded to an email or msg or anything since then.
Apparently our audience was good enough to market to, but thats where it ended for them. This is embarrassing for us, and sad for our winner, but we are going to compensate her in another way to make up for it.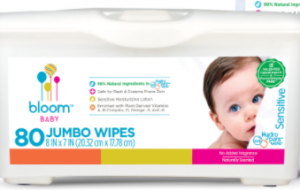 I wanted to share this message with you, because brand integrity matters. If a Brand is not honest from the get-go then you have to question what else they are not honest about.
Most sites would not take the time or effort to let their audience know about this, and I think that is what Bloom-baby is hoping/expecting. However, being a twin mom (or any mom) we put up with very little BS. With that said, this company needs to be outed for poor brand integrity.