Hi mamas! It's been a while since my last post – 7 days, to be exact – and as I sit to write my twin pregnancy journey so far, I'm trying to think of a logical way to structure the post… and I can't LOL. SO this is a post of a few random things from the week 😀
Commuting to Work
Monday was my first day back to work, which sucked in and of itself, but it also reminded me how much commuting takes out of my little preggy body. I'm 30 weeks preggo now, and it's definitely taking a toll on a LOT (read: "everything") I do. I used to take mass transit to work: drive 5 minutes to the train station, take a 1-hour train to hoboken, nj, transfer to a 15-minute train to jersey city, nj, and then walk to the office. Towards the end of May, I started to drive to work – 30 miles, ~40 minutes (depending on traffic). It's definitely faster, since it cuts my commute in half. BUT i have to be aware of the traffic patterns, to prevent my 40 minute drive from turning into a 1.5 hour drive… that means, i'm leaving my apartment at 9am, but not leaving the office until 7pm :/ By the time I get home, I'm just exhausted. It's a little scary to be on the road – not because I drive recklessly (I definitely don't – I'm a mom now), but because of all the reckless drivers around me! People speed past me, cut me off, get dangerously close to my lane, and it scares me!! I just cruise control in the middle lane, and mind my business.  ::
whistles:: don't mind me, speed racers!!!
What do all you other corporate mamas do out there? Mass transit? Drive? What have you found to work best/worst? Let's hear it!
---
Growth Scan
On Tuesday, we had a growth scan for the boys and they are doing so great!! Look at their little faces!! <3 <3
Baby A is 3lbs 5oz and Baby B is 3lbs 3oz. 🙂 They're getting so big, so fast – I can't wait to meet them! As the time gets closer, I'm interested to hear back from my fellow twin mamas – how many weeks were you when you delivered? Did you have a cesarean? Can I hear your birth stories? I'm still trying to decide if I'll have a vaginal delivery or schedule a cesarean, and I'd love to hear what other mamas have gone through.
Sunny days
The weather has been getting so warm and summer-y here in NJ, lately!
I spent some of Sunday afternoon soaking up the sun at our apartment community's pool – basking in the rays AND taking the boys for their first swim! Let me tell you — swimming is  
wonderful
for preggy women! I, for one, can attest to the fact that your belly becomes 100% weightless in the water, so it's great to be able to move around without feeling the weight in your belly.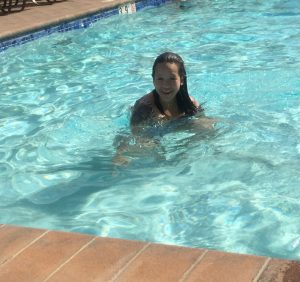 The next thing on my summer list is to purchase a swimmy noodle and floatation device so that next time, I can literally veg out in the pool What other things/activities do you mamas do to be comfortable in the summer heat? It's just beginning here, so I REALLLLYYY wanna know what else i can do to just cooool dowwnnnn…
---
Stillllll knitting!
Not gonna lie. I'm getting a hang of this knitting thing, lol. My fingers definitely cramp up, and they feel SUPER SORE in the mornings!
WHO KNEW that would happen?!! 
In any case, I started a project of a baby blanket, and here's my progress (dog for scale, haha)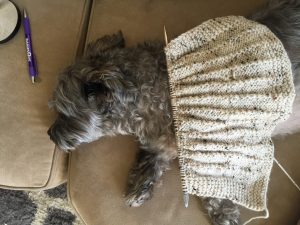 ---
SO. there you have it. a bunch of random things – nothing too tremendously exciting, but such is life! SOME REMINDERS:
Have a great week, everyone! Happy Twinning! <3 Krysty