One of the advantages of having twins is that there are twice as many theme ideas for a baby shower – not a BIG advantage, granted, but a significant one nonetheless. And since multiple births are on the rise, you'll probably be faced with a twin baby shower sooner or later, as either a host or a guest, or better yet, a guest of honor yourself! Here are a few theme ideas of how to create a unique event, fitting for the soon-to-arrive pair and their anxious mom. And hopefully, by the end of the party, that anxiety will be transformed into sheer excitement alone.
SEE-SAW
A playground theme is hands-down perfect for a baby shower, and if you can get/make a see-saw in there, it'll definitely be twintastic. Actually a see-saw is the perfect prop for such an event, and who's to say there couldn't be a baby shower game involved? (admittedly uncomfortable for mommy, but perfect for the guests.) As far as food and decorations go, anything brightly-colored will fit in just well in this theme, and you can go crazy with gifts you can get mommy and the much-expected little ones – you can aim to fill up their nursery with adorable, colorful toys.
Gift idea?
Transform the nursery into a playground with the
Fisher-Price Bounce & Spin Zebra
THUNDER & LIGHTNING
Even though having twins could very well indeed be like "thunder and lightning, very very frightening", that doesn't mean the baby shower can't be delightful (let's give mom that, at least). Thunderstorm onesies for the little ones, lightning bolts and grey clouds for decorations, a bright yellow cake, gold glitters everywhere, colorful umbrellas, mustard sandwiches, raindrop-shaped cupcakes…when has bad weather sounded more exciting?
Gift idea?
Two of these
SkipHop Baby Star Struck Footie with Hat Set, Lightning
 will make thunderrific gifts.
THING 1 & THING 2
Quite possibly there's no better way to introduce the twins in your life to Dr Seuss than by throwing their mom this themed baby shower. Yes, let's foster fandom whilst they're still in the womb. All you need is to incorporate red, white and blue in everything you do.  (starting to sound like Dr Seuss already, see?) What would be awesome is if you actually got some weird, blue fluffy wigs for everyone to wear, or one just for mommy, if she's up to it.
Gift idea? Kangaroo's Funky Spiky Blue Wig
of course!
NOAH'S ARK
You can go wild with this one…literally. Lions, tigers, elephants, the lot. This is arguably the easiest baby shower theme to pull off. Animal-themed parties are common enough. What you have to make sure of, is to have everything set out in pairs. Fortunately there are a lot of Noah's Ark baby toys in the market and they make for awesome decorations – a twin win win!
Gift idea?
Help make the twins' nursery complete with
SoHo Noah Ark Baby Crib Nursery Bedding
ALL GOOD THINGS COME IN…PEARS
This play on words can lead to the sweetest baby shower (pun intended). Color the area with light greens and yellows, and as with the Noah's Ark theme, make sure you have everything in pairs so that everything's pearfect. That means, pear-shaped cookie favors bound in sets of two, a two-tier cake, and pear-flavored ice-cream – two scoops of course.
Gift idea?
Let the little ones have their own share of play on words with this
We Make A Great Pear! Couples Infant Creeper
M&Ms
You know that the 'sweets' portion of the party is covered with this theme. Let's not drool over the M&M-covered cake and let's not mention the fact that we unashamedly sprinkle M&Ms instead of glitters to decorate the tables. How about the giant M&M cupcakes and the M&M-shaped cake pops? Yummy for the tummy and for the ravenous mommy! Don't forget to decorate the area with all things brightly colored, and while we're at it, set out some colorful fabric pens and plain onesies, and make a game out of it. Ask mommy and guests to pimp up the onesies for the long-awaited pair and you'll have covered the 'gifts' portion in a bespoke way.
Gift idea? Gerber Unisex-Baby Infant Onesies, White
 for your fun baby shower activity.
TWO PEAS IN A POD
A classic theme that's nevert heless super adorable. Needless to say you'll need green decorations for this one, or you can toss everything and just take the party outside – a picnic on the grass! How fitting is that? Luckily green balloons sort of look like peas, so all you need to do is draw on cute pairs of eyes and you're set! As far as food goes, it's not difficult to incorporate shades of green. Sweets are easy, and as for savory – cucumber sandwiches, pesto pasta, avocados, pistachios, you name it. Oh and don't forget to add some mint leaves to that lemon water you'll be serving!
Gift idea?
Finish off your theme with this
Two Peas in a Pod Twin Baby shower Balloon Decorating Kit Supplies
PEANUT BUTTER & JELLY
This much loved combo is a perfect theme for a twin baby shower. Bring on the tans and bright reds! And you could also go for a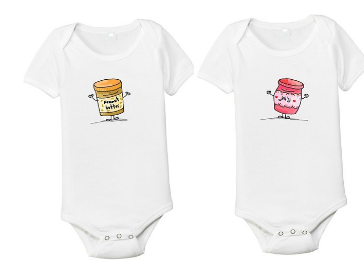 cake in the shape of a PB&J sandwich! The possibilities are endless for this one: serve jello shots (minus the alcohol for mommy), strawberries dipped in milk chocolate, peanut-shaped cake pops, peanut-butter cookies, and duuuhhh…PB&J sandwiches of course. Consequently, PB&J twin onesies are possibly the cutest first gift the little ones could get!
Gift idea?
Help the twins show off their individuality with this
Peanut Butter and Jelly Set of 2 Matching Onesies
If you are looking for suggestions for Twin Shower Games, please visit this link –
10 Twin Baby Shower Games