An age old question finally answered…
Wait…does the Queen what…? o_O
Body positivity is something we can definitely teach at any age! What better way to do that than with a fun and silly book donning some seriously awesome illustrations? My six year old laughed, giggled, and gasped in disbelief ("Did he really just do that?!") and well, made some other…umm…silly sounds as we read Heather Gordon's children's book,
Does The Queen Fart?
We are sure you'll enjoy it just as much so…it's giveaway time! See how to enter below!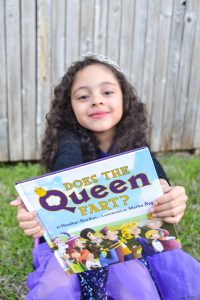 We have 10 (TEN!)copies of #DoesTheQueenFart ready to be personalized and autographed by author Heather Gordon. How to enter on Instagram: 1.Like our book giveaway post 2.Follow @lazandlemon &
@official_twinmom
3.Tag a friend who would love to enter and cross your fingers! How to enter on Facebook: 1.Like the giveaway article posted on https://www.facebook.com/OfficialTwinmom/ 2.Be sure to like the page! 3.Tag a friend who would love to enter – and cross your toes! Not on Instagram or Facebook? No problem! Leave a comment below and we will add you to the drawing. Winners will be announced and contacted next Monday. Good luck! (PS. Contest open to all! No need to be a parent of multiples! ?)
About the Author
Author Heather Gordon has had a love for children's books her entire life. Since becoming a mother, her desire to share curious and humorous stories encouraged the launch of her debut book, Does the Queen Fart? Heather's goal with this book was to open a lively and fun conversation with young children about the
beauty and complexity of their bodies
, even when they make funny noises. With a successful career in television that has spanned two decades with Canada's largest media outlets, including CHUM, Bell Media, and CBC, Heather is thrilled to now add children's book author to her résumé. She lives with her husband—the novelist Ian Thornton—and their two children in Toronto.
You can follow Heather on Instagram Instagram.com/lazandlemon and Facebook: https://www.facebook.com/HeatherGordonAuthor