No, the fact I am writing an article about vacuum cleaners on twinmom.com is not a hint. I am not trying to say that vacuum cleaners are for women. I am Alex Papaconstantinou, founder of UK voucher site
wikigains.com
and I do the cleaning in my house every weekend. Well, I do the vacuum cleaning at least. Gtech AirRam Mk2 is a hell of gadget that makes cleaning fun. Here I talk about its features, cost and Gtech discount codes.
What is the Gtech AirRam Mk2?
The Gtech AirRam Mk2 is a unique floor cleaning device. It's a wireless, battery powered unit that's somewhere between a stick vacuum and an upright vacuum in size. It's entirely devoid of hoses, attachments, and other doohickeys. This gadget is designed to clean floors and clean floors only. The AirRam doesn't operate quite the same as a normal vacuum cleaner. While most vacuums rely on suction to do their cleaning work, the AirRam instead uses creative engineering. As you push it, a series of brushes and flaps pull dirt off of your floor and trap it inside the unit's cleaning head. A 100-watt motor then funnels this dirt into a collection chamber so you can empty it later.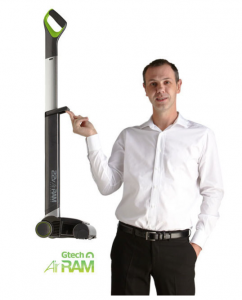 Source: Gtech.co.uk. At 3.5 kg, the AirRam Mk2 is a fair bit lighter than your typical upright vacuum.
 Designed with a purpose
The AirRam Mk2 is so light you can lift it in your one hand. It has been designed so that even
grandma and grandpa
can use it easily. Unlike a stick vacuum, however, it's not something you're going to be lifting up a lot. The broad, rectangular cleaning head is designed to stay in firm contact with the floor. 3.5 kg is not a lot, but the AirRam feels even lighter while you're pushing it forward. The brush bar is hooked up to a motor that constantly pushes the whole unit forwards. If you hold it upright without applying any pressure, it'll crawl forward at a slow pace!
Gtech's design makes it extremely easy to vacuum a large floor without getting a workout
Pulling the AirRam backward takes a bit more effort. Not only are you working against the brush, you're also working against all the dirt on your floor. Gtech has included a high-tech front flap that snaps down as soon as you start pulling the vac back. This seals in any dirt and debris underneath the vacuum cleaner and ensures that you'll pick everything up with your next forward pass. Anything the AirRam sucks up is stored in a bin located in the base of the unit. While it's not particularly large, it has a special design that's supposed to help compress down dirt. It's quite easy to remove when it's time to empty. Notably, there's a slider on it that helps eject all of the junk that's accumulated on the inside. This makes emptying the AirRam incredibly satisfying and ensures that you don't have to get your hands dirty while you clean.
Emptying the AirRam is so much easier than conventional vacuum cleaners
Guarantee, delivery and support
There's a 2-year guarantee on the AirRam, which speaks more about the build quality than any review you'll read. Gtech voucher codes available online offer free delivery in the UK. AirRam is shipped internationally for a small fee. If you are looking for after sales support you will find details about parts, spares and "how to" videos
here
.
How much does the AirRam cost?
Online prices are subject to change. That said, the AirRam is currently about £200 on Gtech's website. It's also sold as a package deal with a portable handheld vac called the Multi that's designed to clean just about everything other than floors. The AirRam + Multi package is currently just under £300.
Gtech coupon codes
Everyone loves a bargain. To save on the AirRam you can try to following offers:
Gtech promo codes "MK36" and "HD35" save £20 (approximately 30 US$) off AirRam vacuum cleaner.
Coupon "WR10" takes 10% off your order.
These offers are time and product specific. You can find up-to-date discount codes for Gtech in this
page
.