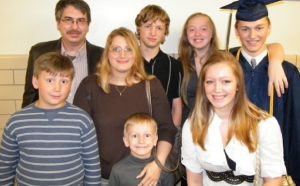 Charlene is a mother of 6 wonderful children, and used to be obese. She was never able play with her kids because she was so heavy and had asthma which made running around very difficult. She would spend most of her time sitting and watching her kids play, which made her feel guilty and depressed. She'd later take her kids out for ice cream, and would also end up eating the ice cream, although she was trying to lose weight. Today, her kids are much older and she hopes to live long enough to see them get married, have kids of their own and even to be able to play with her grand kids.
Back then, Charlene had actually tried to lose weight, but she would end up gaining it again. It was never permanent. This had a huge impact on her both physically and emotionally. She weighed 205 lbs (at 5'2 inches of height), felt embarrassed, and wouldn't leave the house. She managed to lose 40 lbs on my own, and then she hit a wall; she had hyperthyroidism. Her doctor prescribed medication, which she never took because she was afraid the meds would make her fat. In a short period of time, she gained 20 lbs of the 40 lbs she had lost, and felt like she was fighting a losing battle. It was at this time when she came across Nutrisystem.
As a blog writer, Charlene learned of Nutrisystem's program for bloggers. The company was asking bloggers to try the program by offering them food and access to the Nutrisystem site for honest reviews of the program. She decided to try it out. On her 40th birthday (weighing at 180 lbs), she received word that she was one of the Nutrisystem bloggers.
When the first Nutrisystem package arrived, she got started right away. She read all the booklets and information therein, went to her local store, and purchased all the groceries recommended including veggies, fresh fruits, and whole grain breads. She even started exercising again because the Nutrisystem program makes it easy, by breaking exercises down into 10 minute increments, 3 times a day.

Well, when she first started telling other people that she was using Nutrisystem program, she got lots of negative comments. It was quite hard to remain positive, but she never gave up. In the first month, she lost 10 lbs, and then things slowed down to one pound a week. It took her almost one year to lose 35 lbs, but she learned a lot during that time. She learned how to eat the right type of combinations, proper portions and much more.
Today, Charlene swears by Nutrisystem. She says that the program actually saved her life. Her health has drastically improved, and she now likes playing with her younger kids, and enjoys every minute of it. She absolutely loves her new live, and feels like she owes it all to the Nutrisystem program. In the past, she had tried lots of other diets, and none of them seemed to work until Nutrisystem came along. The program breaks down everything and makes it easy to follow. She followed the rules, although there were days she didn't, and still lost weight. She would at times skip exercises and cheat on the diet, and still lost weight.
Photo: Charlene (red arrow) playing with her children
Charlene went from a depressed, obese woman, who was always embarrassed to be seen, to a happy, lively mom who loves being in front of the camera. She went from 180 lbs to 145 lbs; from size 18/20 in pants, to size 6; and from size 2X shirt, to small/medium size. She now loves going shopping for clothes with her daughters, and loves every moment of it.
Charlene has a wonderful mommy blog where she has recorded her weight loss story. http://adventures-in-mommy-land.blogspot.com/p/my-weight-loss-journey.html