Happy Sunday, mamas! It's a gloomy day here in NJ – rainy and high 60s – so I hope that, wherever you are, it's nicer than here, haha. So with my impending maternity leave, I have decided to pick up a new hobby – knitting! I'm pretty stoked.
Do I have any knitters out there?!
I went to AC Moore, and picked up a knitters starter kit:
When I got home, I was super excited to get started. On the excitement scale of 1-10, I was a 15:
"oh this will be great." "ok – let's set up a little station… great. got the yarn.. open the book, ok good. woohoo!" "i can't wait to make a million things for the babies!" "oh this is so exciting!" "okay – let's get started knitting"
I started to read my 
Learning to Knit
book, and began the first project: Coasters. I thought to myself: 
This is a great starter project. I'll get this out of the way and ON TO SCARVES AND BOOTIES
. First thing to learn: slip knot. 
Got it. Easy! I'm pretty good at this!
Next: Sling shot cast on. Okay, this one is a little more complex. No problem! There are diagrams in the book.
Okay, that's confusing as fuck. Let's look at the video tutorial.
…….
…….
Okay, wtf. I'm lost.
Rewind the video.
Rewind again.
Again.
Okay, one more time.
………
GOT IT!!!! FUCK YEAH!
Now: the knit stitch.
oh god, they're introducing the 2nd needle.
okay, I can do this.
read the book.
watch the tutorials.
I. GOT. THIS.
(30 minutes later)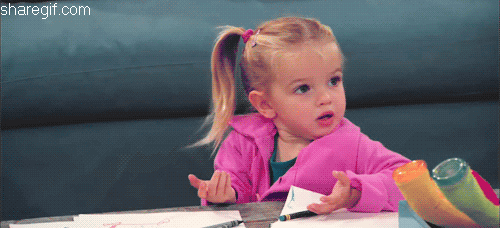 ….. after that, I gave it a rest for a little. 
step away, krysty… step away
. I picked it up a little later… and 5 hours, 27 "start all over"s and 84 'watch and rewind the tutorial video's later… we have – A COASTER!
Not bad, eh? So I stuck with what I knew and made another. LOL. Today, I'm making more – practice makes perfect, after all! This
holiday season
, everyone is getting a lovely gift set of homemade coasters. All the same color. All the same size. What are some of your hobbies? Can any knitters offer any words of advice? Would love to hear it! 🙂 It's back to work for me tomorrow, after a whole week off :'( BUT! I have a growth scan scheduled for Tuesday! Can't wait to see how big these baby boys will be 🙂 Happy Twinning!! [don't forget to follow me on IG @dimas_duo, and sign up for the twinmom.com newsletter!] <3 Krysty