Picking a gift for your loved ones isn't always easy, especially when you want to mark an important event in their lives or make a strong impression. Usually when you think baby shower, wedding or big family event- you lean towards something sentimental. HOWEVER, I  would bet that your loved one is already getting a blanket or a photo book. I would bet they are already getting a monogrammed apron, or a juicer. The point is, coming up with something they are not already going to get from someone else is a challenge.
This is why gifting of bobbleheads are my new go-to for unique personalized gifts.
If you are trying to think of a unique gift giving opportunity, then the most sensible gift would be a unique gift that no one else would think to get.
The most common one that comes to mind is for a wedding. You can get a custom bobblehead made of the bride and groom, and give it as a gift, use it as a decoration, or even a cake topper.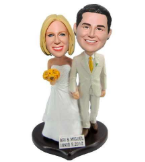 Personally- I vote cake topper, but that's just me!
You can also give custom bobbleheads as groomsmen's or bridesmaids gifts.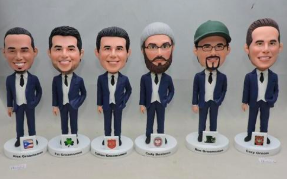 Another great option for Gifting of BobbleHeads is at a baby shower. I know this isn't the first thing that would come to mind for a shower, but it would probably be one of the few gifts that ACTUALLY last forever. Baby clothes will get grown out of, and teethers will get tossed… but a cute custom bobble head of a family will never get old.
The reality is that gift giving bobbleheads will never get old
If you are looking for a gift to give to your doctor, get a bobblehead. If you are looking for a gift to buy your realtor, get a bobblhead. If you are looking for a great gift to buy your sports fanatic husband get a bobblehead.
If your looking for a quality bobblehead at a reasonable price check out: crebobble.com
I think of a bobblehead as a great gift that I would never buy myself but would love to own. Who wouldn't like a mini version of themselves greeting them with a friendly nod all the time?