Whether you are a married mom or a single mom, you may need some important tools to
handle different home repairs.
This can range from unlocking clogged drains, installing drapes and shelves and much more. Such basic home improvement tasks do not necessarily require the help of a professional. With
the right tools
, you can get the job done within a short time. A mom needs tools with ergonomic grips, made of high-tech metals, reduced weight without compromising power. Here is a list of TOH Picks the Best Tools for Mom.
1: The hammer
She requires a hammer that has a comfortable grip on her smaller hands. Such a hammer is the Stiletto's 10-oz. It has a titanium head which primarily acts as a shock absorber in order to cut down on arm strain and recoil.
2: The screwdriver
Another tool to have in her toolkit is a screwdriver. The screwdriver has a powerful magnet in place at the shaft. The magnet will enable steadying of metal fasteners on your screwdriver tip and make swap-outs simple by holding the bits in place. It also has a rubber-gripped handle and holds eight bits in the pop-up carousel. You can choose the Felo Bit Boy 374 screwdriver that has these features.
3: The knife
For the knife, you have got the
2-in putty knife
and the non-slip rubber-griped handle utility knife. The putty knife has a small and flexible steel blade in order for easier application of glazing putty to the windows, patching screw holes and spreading of the joint compound into cracks in the wall. The utility knife enables swivel opening in order to replace the blade. It also includes spring-loaded cartridges that will the extra blades to ensure a sharp edge is always ready for her work.
4: The saw
The saw will work on the pull stroke instead of the push. It has to have a thinner blade for easier, faster and more accurate cuts with only less dust. It is even much better since the reverse motion will mimic her everyday chore using a knife hence reducing fatigue.
5: The pliers
You can have the needle nosed pliers that ensures you easily grab the small parts. This is in a situation where your fingers are out of reach for a corkscrew in the case of impromptu picnics. Your mom will also require groove lock pliers. Such pliers will make it easier for gripping and locking into place what she is fixing due to the press and slide button that it has. The serrated jaws also securely fit around the flat, square, round and hex-shaped workpieces.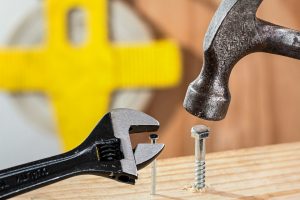 Conclusion
These are some TOH Picks the Best Tools for Mom. To add to it choose a stylish and sturdy bag with stitched leather handles or a pocket-sized toolkit to hold and store such tools in place. It's time to give your mom a treat and give her such tools as a present for any of her home improvement projects.