Ginny and April are two (very cute) Twin hero's. They are just 6 months old, but they spent 12 day's in NICU, and another 6 months at home, before getting to meet their Daddy, because he was taking care of America. Tyler (Daddy) 27, is a Hero in more ways than one. He takes care of his family, he serves our country (as a C
aptain in the Marine Corps who flies Ospreys),
and he sacrificed meeting his twin girls for 6 months to accomplish both. To say that we don't say "Thank you" enough to those that serve for us- is an understatement. For those of you that have had children, you know that the support of a loved one, and especially your significant other is SO important. That leads me to Annie (Mommy) 26, who is also Hero to me. Annie is a teacher at a community college, in the adult high school department. Sh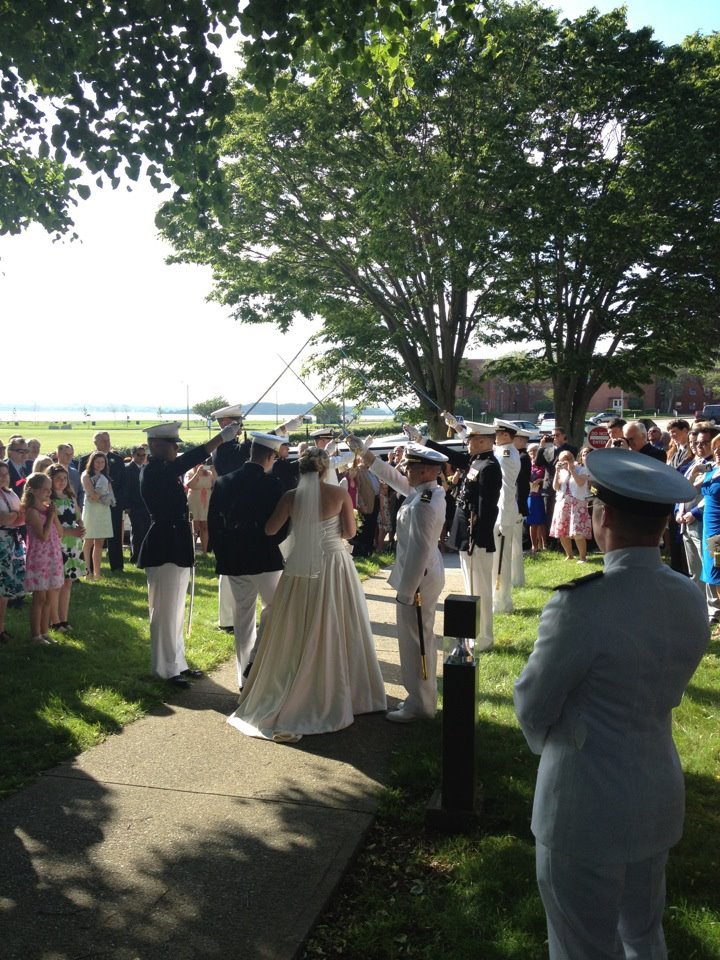 e has also worked on developing Math curriculums, and teaching developmental Math. Tyler and Annie were married 2 years before deciding to get pregnant. They tried to plan their family around Tyler's training schedule, multiple moves, and then of course deployment. As a military family, "planning" means something a little different than it would to most of us. Every time they would think about planning, they would have a major transition coming up. In the last 3 years they have moved 5 times.When they found out that Tyler would be deployed they talked about trying to get pregnant closer to his leave date but ultimately decided that would leave it up to chance. It was not long after that discussion that they actually did get pregnant. Yay! At their 8 week ultrasound they found out they were having twins. Yay again! Actually- DOUBLE yay! After the shock wore off, there was still the reality that Tyler was going to be deployed. Annie said
"

Even though we had continued to try to get pregnant knowing he would be deployed the reality didn't sink in until closer to him leaving. I guess you always hope that something might change and he might actually be here for the birth. So yes I was disappointed, most women don't hope to give birth without their husband. Not that you dream of childbirth like you dream about your wedding or future family but any pregnant mom starts to think about it and being alone is not a typical plan."
As first time parents there is a lot of "unknown" that goes with having a baby…let alone two. Annie and Tyler tried to stay positive, by focusing on the fact that he would possibly just be gone for the crappy part of pregnancy. The uncomfortableness, the aches and pains… and of course the sleepless nights that would allow Annie to have the entire bed to herself. They also found out that he would miss possibly the first 7-8 months of the babies lives.
"You can make the argument for any part of the first year being the best or worst time to miss. We tried to look at the positive that when he got home the girls would be doing a lot more and be very interactive. I also tried to look at the fact that I would have 7 months to fumble around and figure things out before he got home." 
After a lot of research, and discussion with doctors and her midwife Annie decided to have a scheduled C-Section. If Tyler were there her decision might have been different, as they would journey through labor and delivery together, and he would be there to hold her hand. Since he was not there, Annie didn't want him to miss out on one more intimate experience and knowing that his wife was going to go through labor (and whatever came with it) without him. After considering many family members and friends that could be in the OR with her, Annie decided to have the C-section alone.
"My husband was already missing so much I didn't want him to feel that someone else had an experience with the girls that was supposed to be his."
The girls were born in Nov 2015. They were beautiful, and perfect. They did have to live in the NICU for 12 days, but Annie was able to be there with them. Thankfully when Annie went home she had a tremendous support system including her mother, and great friends. They had their
first Thanksgiving
, and Christmas without Dad After 7 long months, or as Annie says
"205 long days… but who's counting?
" Tyler got to meet his baby girls for the first time. Annie is probably one of the most optimistic people you might ever get to know. She describes how she was able to reframe her mind to looking at the bright side
"There isn't much positive to see in actually giving birth alone, but since my husband wasn't there for the birth I thought it was cool that I was going to be the one who introduced him to his daughters for the first time.  The doctors introduced the girls to me and it was very formal and rushed.  I got to control the way he met the girls.  He was able to give them a kiss and hug them. He was able to just sit and study every teeny tiny feature of them."

"The moment I got to introduce Tyler to his daughters is probably a moment I will never forget. I was so nervous! The morning of his homecoming they told us to call in to see what time they would be arriving. The last we had heard it would be late morning. I was feeding the girls at 6:45am and one of them had finished early so I figured I would call the hotline just so I could official start my mental countdown. When I called the message had changed to say that they would be arriving at 8am. AHHHHH!!! How in the world was I going to get myself and two babies dressed and to the flight line in an hour?!? I promised my husband before he left that I would get myself and the babies to the flight line alive, with clothes on, and our teeth brushed, anything more was just a bonus. Throughout the deployment when I was having hard days and I would tell him about it in an email he would remind me all I need to do is be dressed with teeth brushed on the flight line. So when I had an hour notice I really did feel like that was the best we could do. I guess I lucked out that I only had to brush my teeth. At the homecoming we got to see him land and then we had to wait like 10 minutes for him to shut down the plane, get off, and walk to us. There was a line we weren't allowed to cross. GRRRRR I'm a rule follower but you better bet my toes were crossing that line. He came up to us gave us a big hug and me a kiss then he turned to the girls and said hi to them and gave them a kiss like he was just coming home from work one day."
Tyler has fallen into the role of dad seamlessly. The girls love having him home and light up every time he walks in the room. Annie said "Just as we had hoped it seems like everyday they are doing something new and want to "talk" and giggle with us."
We truly
don't say "Thank you" enough to the people that serve our country, and we usually don't say "Thank you" at all to their families who love and support them while they are gone. It is their family that keeps them going, and their family that makes sacrifices as well. 
Thank you for serving our country Tyler, and amazing family.