Infertility affects 1 in 6 couples, and for Matt and I, we were that couple. 
In February 2018 we were diagnosed with unexplained infertility, meaning there was nothing wrong with me, nothing wrong with Matt, we just couldn't conceive. It's not easy to hear when you are 27 years old that you will struggle to have a baby. It's not easy to hear you might have endometriosis, then be operated on only to find out you don't and there's nothing stopping you from falling pregnant. It's not easy having everyone around you fall pregnant and seeing Facebook posts announcing a pregnancy, when inside you are dying because you aren't pregnant. And it's certainly not easy having people ask you when you will have a baby because you've been married a while, as though every married couple MUST have a baby. Many lies were told, many holidays were taken, and many tears were shed to distract from the pain I was feeling for 2017 and 2018. 
We were lucky enough to be seen by an amazing fertility specialist almost instantly after our diagnosis, however it wasn't the happy experience to begin with. 2 failed IUI's later and mentally I couldn't take it, physically my body was a hormonal mess and emotionally I wrecked. I sat down with Matt and told him I wanted to start IVF to increase our chances. 13 eggs retrieved, 10 good quality, 7 fertilized and 4 survived. These are great numbers, but imagine what it's like for someone a bit older!
I'm not here to tell my story to receive sympathy, I would go through the experience again in a heartbeat. I'm here to tell my story to help those who might be in a similar situation. PLEASE, stop asking a married couple when they will have a baby, they might not be able to. PLEASE don't assume because a couple don't have kids it's not because they don't want them. 
Matt and I chose to keep our journey quiet to focus on what we wanted, a baby. But I was NEVER going to hide the fact we struggled to conceive.
Over 1000 self administered injections, countless blood tests, doctors appointments, tears shed, and psychologist appointments (yes I saw a psychologist, fertility treatments aren't easy to go through), 1 embryo transferred, and identical twin girls later and I wouldn't change the experience for anything. It bought Matt and I closer, and taught me a lot of life's lessons, and what I will and won't say to people.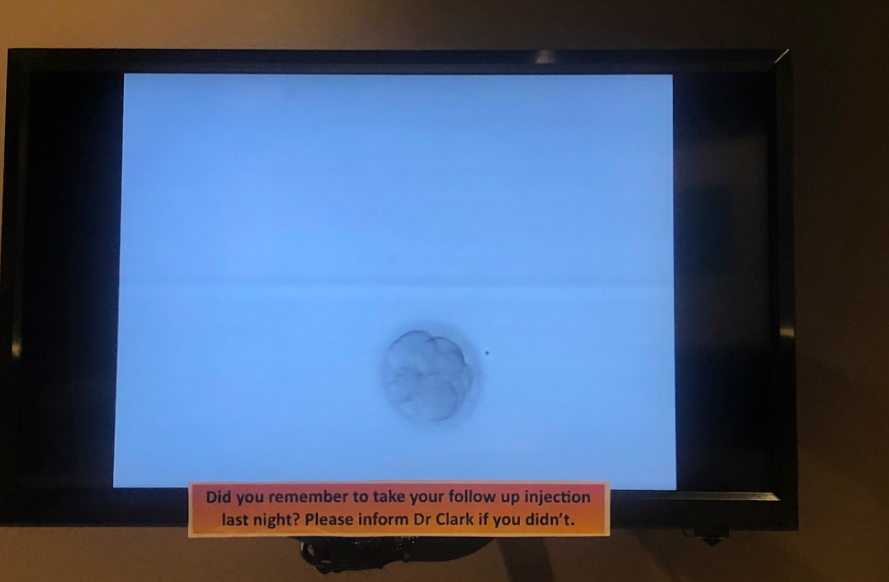 I cannot thank my husband and family enough for their love and support over the past 2 years as we went through this journey together. Our girls are extremely lucky to be a part of this family. 
Madeline and Isla sure were worth the wait and I wouldn't change the experience for anything. We wanted a baby, and got two. And now we want to share our story to erase the stigma that IVF or fertility problems are a rarity. I never thought it would be me that would need assistance. And you never know who else may be in the same boat. 
NO, twins don't run in the family, our embryo split. Identical twins are not genetic but pure luck that the embryo splits.
NO, we didn't plan for twins, no one can! (But we are beyond happy we got them).
YES, we were shocked when we found out, no one expects it.
YES, they are the result of IVF and we couldn't be more proud of it!
They are no different to any naturally conceived baby. I am no different to you because of my journey. Please think next time you ask questions or say something to a married couple…life may not be so easy and that smile may be fake. But for now, my smile is huge and completely real! 
I am a mum…I was meant to be one, I just needed a little help