The beautiful Kristin McGee sent us this blog post JUST a few days ago. Since then she has given birth to two amazing boys. You can read her thoughts just before birth below.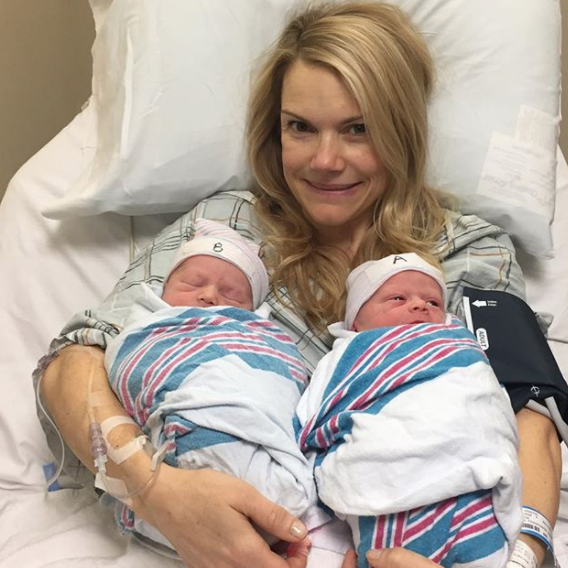 I'm writing this now as I sit in the hospital waiting for my C-section to take place. I made it to 38 weeks with my twin boys and had fully planned on delivering vaginally up until today when everything changed. I have a 3.5 year old son and I went in to labor with him one day after his
due date
and delivered vaginally and naturally. It was such an easy going pregnancy with him; and luckily, I've had it pretty easy this pregnancy, as far as twins go. I was definitely sick in the first trimester with some pretty intense nausea at times; but I made it through! The second trimester, I felt pretty great. I even feel ok now, besides just being a bit uncomfortable and not being able to really put on socks and shoes that easily.
I am a yoga and
Pilates
teacher and personal trainer and I quit teaching the week of Thanksgiving. From what I had heard, most twins come early around 36 weeks, so I was fully prepared for possibly going in to labor by the end of November. Baby A has been head down for most of the pregnancy and Baby B is butt down or breech. My doctor and I were excited to do a vaginal delivery since A is head down and first.
Yesterday on Dec. 16th at 3am I was supposed to come in to be induced but after my appointment
on Wednesday
Baby B was starting to make his way down quicker and his little foot was in front of Baby A's head..oh no!!! Dr. Calipari said let's give it a day and see if anything shifts. I came in this morning and unfortunately when my doctor did the pelvic exam, he felt a foot before a head. He also noticed my blood pressure was a little bit elevated. "Ok let's just get this done", he said! I've been fasting since I ate breakfast this morning and we are planning on a
4pm
C-section.
The boys are already starting to show their stubborn personalities and I am just happy I made it this far with such healthy boys. I'm anxiously awaiting my surgery and will now get to experience both ways of delivery so I'm trying to look on the bright side of everything. Really I just can't wait to meet the little guys.