Child Passenger Safety Tips To-Go-   by
Clek
Extended Rear-Facing is the Safest! American Academy of Pediatrics recommends keeping your child rear-facing until at least age 2.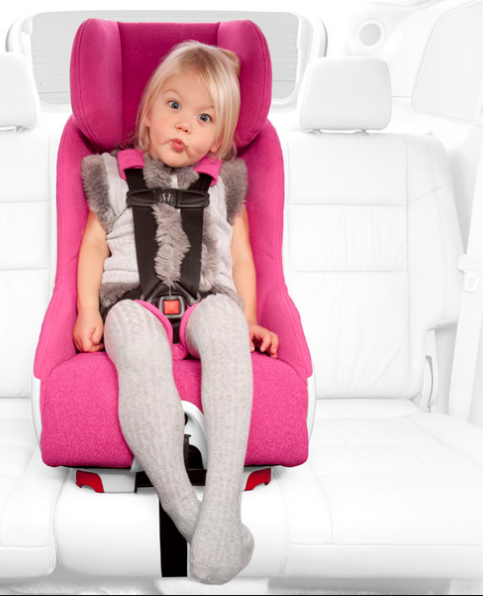 Rear-facing protects the most fragile parts of a young child's body – their head, neck, and backs.
Positioning your car seat
to face the back of the vehicle gives your child the best possible protection in a crash.
Is your child's harness 'snug as a hug'?
The harness in a child's car seat helps keep the child safe by spreading the forces of a crash over the strongest parts of their body. As such, a harness that's set at the right height (at or just below the shoulders when rear-facing, at or just above the shoulders when forward-facing) and tightened properly to the child's comfort maximizes their safety. Here's a quick checklist: a) Unable to pinch a horizontal fold at the child's collarbone. b) Chest clip at armpit level. c) Visible slack removed. d) Snug on hips.
When to move your child to a booster?
Once your child reaches the maximum weight and height limits of their forward-facing convertible seat, it's time to make the move to a booster seat. Children usually outgrow their seat in height before weight. Boosters raise the child up in the vehicle seat to allow the seatbelt to pass correctly across their sternum and across their lower hips. Consider using a full back belt positioning booster to better position the seat belt over a child's shoulders. Some highback boosters also offer additional head protection, like Clek's Oobr model with the side-wing energy absorbing safety feature.
Boosters are for big kids too!
Keep your big kid in a booster until they fit the adult seatbelt without it. Use the 5-step booster test to know when your child fits the seatbelt.
The 5-Step Booster Test
1. Does the child sit all the way back against the vehicle seat? 2. Do the child's knees bend comfortably at the edge of the seat? 3. Does the belt cross the shoulder between the neck and shoulder? 4. Is the lap belt as low as possible, touching the thighs? 5. Can the child stay seated like this for the whole trip? If you answered "no" to any of these questions, your child needs a booster seat to make both the shoulder belt and the lap belt fit right for the best crash protection. Your child will be more comfortable, too!