1. Park next to a cart return. ALWAYS.
This way, you can transfer your twins in and out of their seats with ease, and return the cart without leaving them out of sight.
They're much cheaper than Munchkin diaper bags and do the same job!
3. Keep your twins' sleep schedule as close as possible.
We know this is not an easy task. And sometimes it's simply not an option. Something that might help is getting them on the same feeding schedule. If they eat at the same time, they are more likely to get drowsy at the same time.
4. Use Dreft Stain Remover – it's the best stain remover ever.
Perfect for diaper accidents and spit up stains.
5. Use an app like Hatch Baby to track feeds, wet/dirty diapers, sleep and weight. 
This is especially useful in the managing multiples early newborn days.
6. Pregnancy pillows work great as a lounging pillow – there's no need to buy both!
Our twin mom followers recommend the Twin Z pillow, available on Amazon.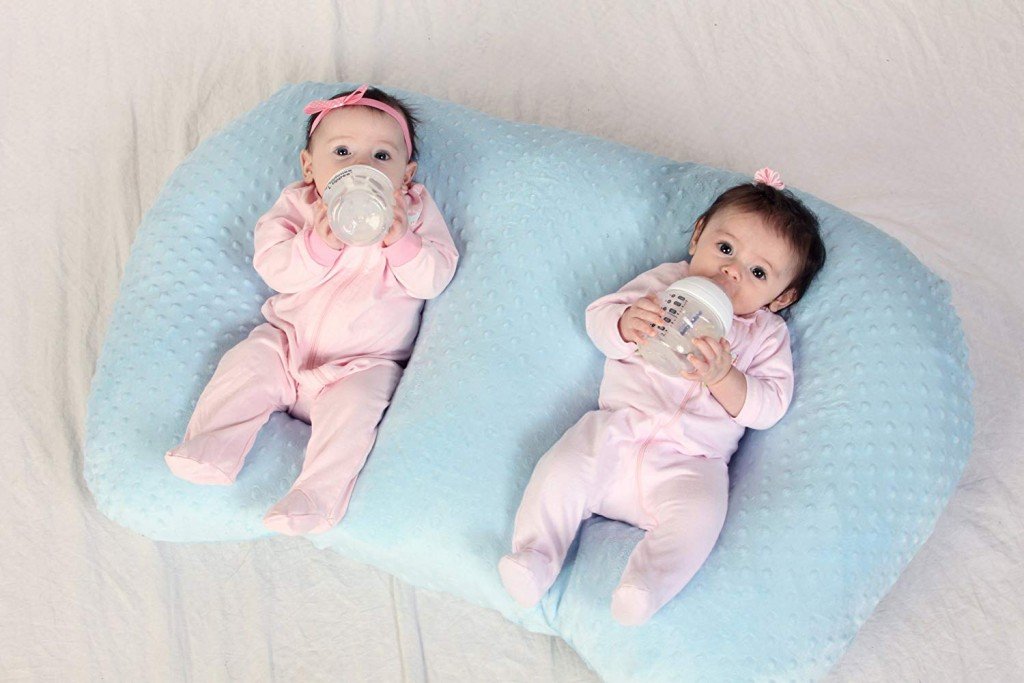 7. Pull the onesie DOWN the baby's body…
The slits on the shoulder of a onesie allow you to stretch the neck wide enough to pull down the baby's body instead of over their head. This is a GOD SEND when you have a poop blow out. 
8. White noise machines are a lifesaver.
They cancel out all noise so managing multiples babies will get used to hearing it and knowing it's time to sleep. Our community of twin moms recommend the Hatch Baby Sound Machine.
9. Your insurance may cover formula for preemies. 
One twin mom said this saved them $7,000!
One twin mom recommended making the formula in batch with Doctor Brown's formula pitcher to save time. The Playtex inserts will help you cut down your bottle washing. Being a twin mom is all about finding the most efficient way to do things!
11. Buy a mini fridge for your bedroom to store milk.
This is especially helpful if you pump in the middle of the night
12. Baby Brezza is a game-changer if you're formula feeding.
Bottles in seconds! Buy the Baby Brezza Formula Pro on Amazon.
13. Buy the onesie pajamas with a zipper and NOT buttons. 
When it's 2am, the last thing you want to deal with is a hundred tiny buttons.
Our twin mom following also revealed 13 baby items that changed their lives and their baby registry must-haves.
Follow us on Instagram for more top tips!